Tip!: The Cloud Sync feature requires an active Plex Pass Introduction subscription.
Related Page: Cloud Sync Overview
Cloud Storage Providers
The Cloud Sync feature will let you link to existing cloud storage accounts you may have at a number of different cloud storage providers. Multiple providers are currently supported.
You'll first need to make sure you have an account from at least one of the supported cloud storage providers. You can use the links in the "Supported Cloud Storage Providers" article to go to their websites. Once on their site, you can sign up for an account.
Please be aware that Plex currently only supports linking to a single account from any one cloud storage provider.
Related Page: Supported Cloud Sync Storage Providers
Navigate the Website
Sign in to Website
Click your account name at the top right of the website to get to your account profile page.
Related Page: Sign in to Your Plex Account
Go to the Cloud Sync Page
Click the Cloud Sync button on your account profile to go to the Cloud Sync page.
The Cloud Sync page will list any existing cloud storage providers to which you may have linked as well as any providers that are still available.
Account Cloud Sync Page
Link a Cloud Storage Provider
Click the name of the cloud storage provider where you would like to link an account. Doing so will take you to the cloud storage provider's website.
Tip!: The exact process will vary with each provider. However, it should simply walk you through what you need to do, such as log in and authorize access.
If you're not already logged into the storage provider's website, you'll probably be prompted to do so: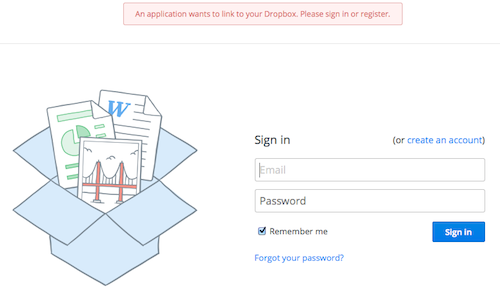 Either on the login page or afterwards, you'll probably be prompted to allow Plex certain permissions:
Once you go through the login and authorization process on the cloud storage provider website, you'll be returned back to your Cloud Sync page on the Plex website:
Order your Cloud Storage Providers
If you have more than one cloud storage provider linked to your Plex account, you can adjust their order by using the drag handles on the left. Simply drag the items to the order you desire.
Tip!: When using Cloud Sync, items will be uploaded to your cloud storage providers in the order in which they're listed. For example, if you link to Dropbox and Google Drive and have them listed in that order, then your specified quota on Dropbox will be used before content is uploaded to Dropbox.
Edit an Existing Provider
If you already have one or more cloud storage providers linked to your Plex account, you can use the Edit button to adjust settings:
You can control how much space Plex can use:
No Limit: Plex can use as much space as is available.
Use Up To: You can limit Plex either to a specific amount (e.g. up to 5GB) or else to a percentage of the total (e.g. up to 50%).
Leave: Make sure Plex leaves a certain amount of storage free for other uses. This can be specified either by amount (e.g. leave 2GB free) or as a percentage of the total space (e.g. leave 20% free).
When you complete your edits, use the Save button.
Reauthorize an Existing Provider
It typically isn't necessary, but you can reauthorize an existing provider on the off chance you need to do so. Click the Reauthorize button and you will go through a process similar to when you initially linked the cloud storage provider.
Unlink
If you wish to remove a cloud storage provider, you can use the Unlink button.
Last modified on: January 11, 2018