Western Digital's "My Cloud Home" (and My Cloud Home Duo) is an ARMv8 based NAS device for home use. The operating system is Android-based and a pre-installed Plex Media Server can be enabled to turn it into a media center.
Related Page: WD My Cloud Home
Related Page: WD My Cloud Home: Manage and Configure Plex Media Server
Note: Unless otherwise noted, the information here applies to both the single-bay My Cloud Home and the dual-bay My Cloud Home Duo devices.
Getting Started
There are a few important things to note about running Plex Media Server on a My Cloud Home device that differ from running on other devices.
For the initial installation and setup, you must be on the same local network and subnet as the My Cloud Home device.
A free Plex account is required to run the server. (You don't need a separate/special account; if you already have an account, that works fine.)
Enable Plex Media Server
To enable Plex Media Server on the My Cloud Home, first enter the Services area of the device control panel. Select the Plex service entry and then Enable it.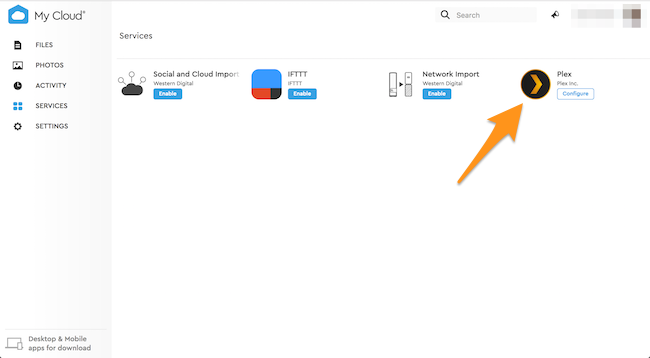 Once Plex Media Server is installed and running, use the Configure button to launch Plex Web App and take you through the initial setup.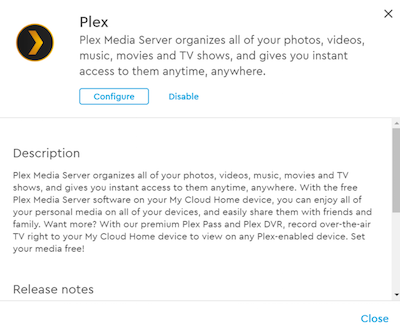 Related Page: Opening Plex Web App
Warning!: If you later choose to Disable the Plex service, that will also remove all installation data. Your media will remain, but all information about your library setup, watched status, etc. will be removed.
File Locations Get Created
After enabling Plex Media Server, a new Plex folder will be created under Files: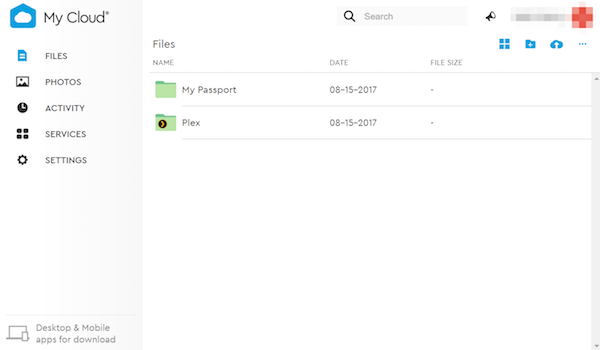 Inside the Plex folder, subfolders corresponding to the different library types that Plex supports will automatically be created (such as Shared TV Shows). These subfolders are where your libraries will look for media.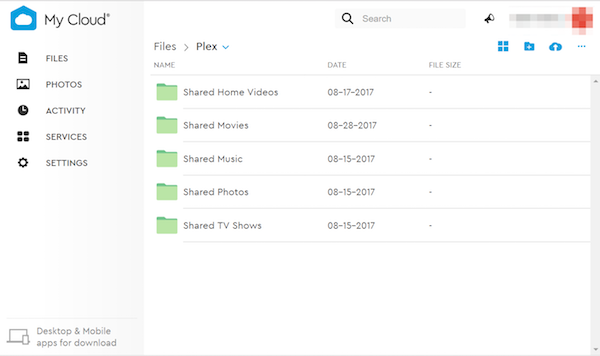 Tip!: These are the only locations under which Plex Media Server will look for content. It will not look for content in custom locations outside of these subfolders.
Move Your Media Content
To make your media available to your new Plex Media Server, simply move it in to the appropriate subfolder. For instance, put your movies in the Shared Movies subfolder while placing TV content in Shared TV Shows.
Related Page: WD My Cloud Home – Adding Content
Common Questions
Where do I put my media for Plex?
Place your media content in the appropriate subfolder inside the main Plex folder inside Files. Your Plex Media Server libraries will automatically use the subfolder corresponding to the library type.
Tip!: Remember to follow our Your Media guide for your different content types for the best results.
What formats does the hardware transcoding support?
When Plex needs to transcode video to be compatible for an app or device, it always transcodes video to H.264. The My Cloud Home supports hardware-accelerated H.264 encoding.
When content needs to be transcoded, the server will also need to decode the video stream before transcoding it. The hardware-accelerated decoding support varies slightly between the single-bay My Cloud Home and the dual-bay My Cloud Home Duo devices. Refer to WD's My Cloud Home Video Transcoding Support article for specific details.
This means that if your media uses one of the supported formats, then the My Cloud Home will be able to make full use of hardware acceleration for transcoding. If your content is in another source format (e.g. VC-1, Xvid, etc.) then you'll experience reduced performance in cases where transcoding is necessary.
Related Page: My Cloud Home Video Transcoding Support
How many streams can the server support?
In most cases, the My Cloud Home can support one transcoded stream at a time. In a few cases, it will support two simultaneous streams. Refer to the following WD article for specific details of transcoding support.
Related Page: My Cloud Home Video Transcoding Support
Can library changes be detected automatically?
The device does not currently support triggering automatic library scans when new content is added to one of the content subfolders. By default, the Update my library periodically server preference is set to Hourly. You can, of course, also trigger a library scan manually at any time.
Related Page: Scanning vs Refreshing a Library
How do I get the Plex Media Server Log Files from the device?
Plex Media Server logs can be downloaded from the server when using Plex Web App.
Related Page: Plex Media Server Logs
Can I create my own libraries?
Yes and no. You can create libraries in the Plex Media Server. However, you cannot specify a custom location for the content. Instead, libraries will automatically point to the corresponding subfolder inside the Files area. So, place your television content inside the Shared TV Shows subfolder, music inside the Shared Music subfolder, etc.
How do I update Plex Media Server versions?
Unlike a regular Plex Media Server you might run on a computer or NAS device, you can't arbitrarily update the server version. Instead, new Plex Media Server updates will be delivered by Western Digital in the control panel of the My Cloud Home.
Manually Installing Plugins
When running on the My Cloud Home, the Plex Media Server data directory is not user-accessible. One consequence of this is that it is not possible to manually install plugins on the device, sorry.
Last modified on: September 6, 2022