Though we will not remove it from the store, Plex VR is no longer in active development and there will be no updates for the time being.
Plex VR for Samsung Gear VR and Oculus Go lets you watch your Plex content in a virtual reality theater.
Getting started
Requirements
Oculus Go
The Oculus Go headset and its included controller
Plex Media Server version 1.8.1 or later if streaming from a Plex Media Server.
Gear VR
To make use of Plex VR for Gear VR, you will need:
A compatible phone

Samsung Galaxy S7 and up, Samsung Galaxy Note 6 and up

Plex Media Server version 1.8.1 or later if streaming from a Plex Media Server.
Note: The "Plex VR" app for Gear VR is not the same as the "Plex for Android" mobile app or the "Plex VR" app for Google Daydream.
Sign in
After launching the Plex VR app, you will be prompted to sign in to your Plex account. Switching Plex Home users is not a feature at this time. This means that managed user accounts cannot sign into the app currently.
Controls
To bring up the settings, click the settings icon on the right of the server selection menu.
When watching by yourself, click the touchpad or trigger when your laser pointer is hovered over a menu item or scene object to select.

Click and hold the touchpad when your laser pointer is over a selected item to grab it in your hand. Try throwing things or placing them on the table next to you!

When a video is playing:

Click the touchpad for on screen controls.
Swipe up and down on the touchpad when hovering over the screen to resize the screen (if available).
Click and hold the touchpad to move the screen in the scene (if available).
The Back key to stop playback and return to the video navigation menu.

When in Watch Together:

Click the touchpad for selection, and hold the trigger to talk during Watch Together
Navigation
There are three main navigation screens: Browsing, Playback, and User Settings.
Browsing Screen
The Browsing screen is much like the standard layout of many Plex apps. It starts out on your Home Discovery screen with Continue Watching, On Deck, and Recently Added content from the selected server.
The server currently being browsed is at the top of the screen and the libraries you have access to from that server show up in a row across the top. Click the magnifying glass on top right to search the active server.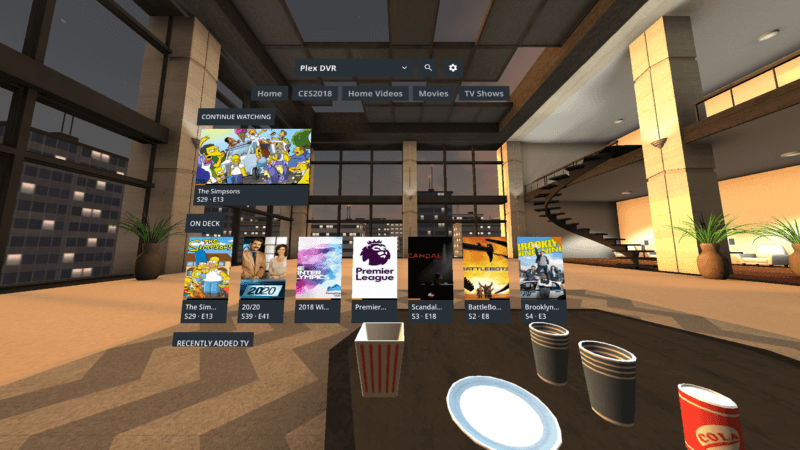 Starting playback. Select an item with the laser pointer to bring up its box and read the info. Select the orange playback button to start playback.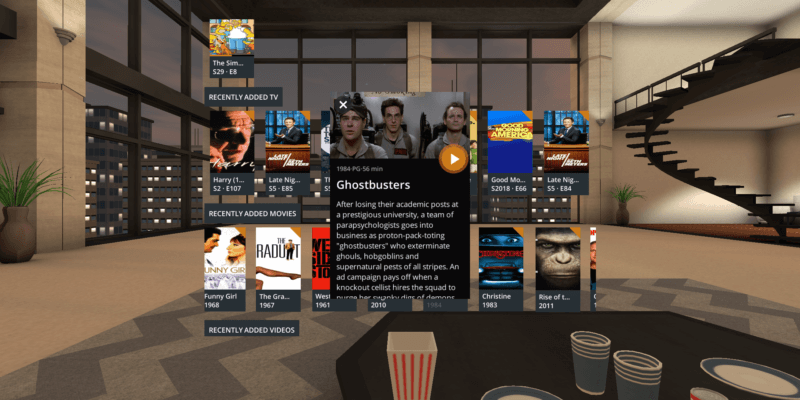 Playback Info
During playback of standard projection video, click the touch pad to bring up more information.
Left of screen will have info on the currently playing item.
Right of screen will depending on content being watched and what is available; On Deck, Related Movies, or Extras.
Center Playback controls for Pause, Back 10s, Forward 30s, Playback settings, and Menu navigation
Press the Back key to return to playback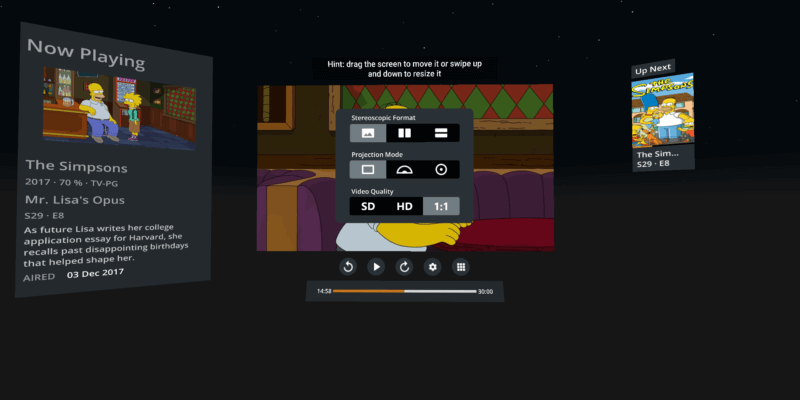 User Settings
Open settings by clicking on the gear icon to the right of the Server selector and Search icon
Left : The Scene for your VR experience. "Void" and "Luxury Apartment" are free. "Drive-In Theater" is a premium scene that requires an active Plex Pass subscription (however, everyone can test it for free for the first 7 days after sign in). Enabling Virtual Surround.
Right: Close Settings, Sign out.
Center: Select your avatar and text highlight color.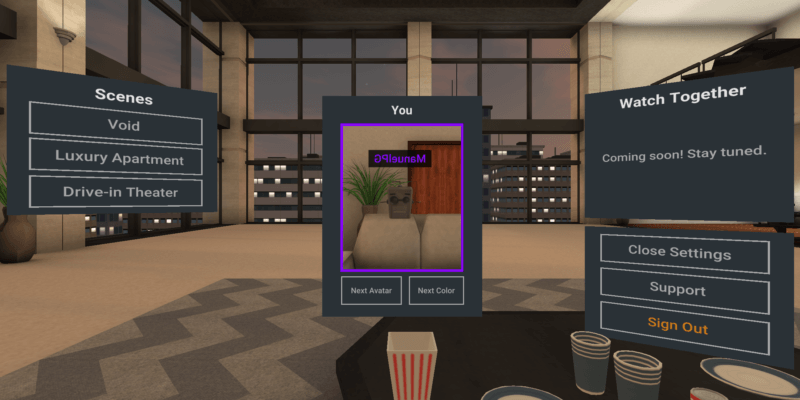 What is Watch Together and how does it work?
Watch Together is a multiplayer video watching experience for your videos, for you and up to three of your friends (4 people total). To start a Watch Together experience with friends, do the following:
Ensure you've added each other as friends, either from the friends panel in Plex VR, through the web interface. Oculus Friends are also supported
Open Plex VR and click on Join or Invite next your friend's name.
Once in a theater together, you will be able to navigate to, and play, any videos that you have access to.
See "Controls" above for Watch Together controls.
Watch Together is a Plex Pass feature but is available to try for a 7 days from the time you first sign into the app. Only one person in the theater needs a Plex Pass
Playing back 360º and 3D videos
Plex VR supports both 360º and 3D videos. There are multiple ways to play back a video in 360 or 3D.
3D
Select the video playback settings button from the on-screen controls, and then select Left/Right or Top/Bottom from the menu.
Add 3D-SBS or 3D-OU to the filename of your video (depending on the 3D format) on your Android device or Plex Media Server computer. (e.g. Avatar (2009) 3D-SBS.mp4)
360º or 180º
Select the video playback settings button from the on screen controls, and select the 360 projection from the menu.
Add Proj-360 or Proj-180 to your filename on your Android device or Plex Media Server. (e.g. Trippy Sphere - Proj-360.mp4)
Note: To set both 3D and projection modes in a filename put both at end of file name (e.g. Trippy Sphere - Proj-360 3D-SBS.mp4)
Virtual Surround
If enabled, the AAC 5.1 audio stream will be spatialized by the app to get an immersive sound field, even with your stereo headphones. If the audio stream of the content being played isn't AAC 5.1, your Plex Media Server will transcode the surround audio to AAC 5.1 (Local video must already have AAC 5.1 audio, as there is not a server to transcode.)
Stereo Audio will sound like it is coming from in front of you.
Tip!: Virtual Surround is a premium feature and requires an active Plex Pass subscription.
Frequently Asked Questions
Where can I play videos from?
Plex VR can play back:
Any videos on a Plex Media Server that you have access to. (The Plex Media Server may have to transcode.)
Any videos in common video locations (Downloads, Movies, etc.) on your Gear VR-compatible phone. Video must not need transcoding for playback.
Why are the Galaxy S6 variants not supported.
Performance on the Galaxy S6 variants was found to be too poor to provide a good experience, so it is not supported. The app will not show up in the Oculus store for unsupported devices.
How do I turn on/switch subtitles or audio streams?
During playback, tap the touchpad to bring up the Playback Info, then use the gear icon there to open the playback settings. There, you can select the audio or subtitle stream to use for playback.
Where are my Photo and Music libraries?
Photo and music libraries are not currently supported in Plex VR.
Why does Plex VR require certain app permission?
Storage permission is required to play back local videos off of your device.
Does the app work if the device is offline?
Yes, you'll be able to watch videos stored on the device that way. Keep in mind that you'll need an internet connection in order to sign in to your Plex account the first time you launch the app.
When is Plex coming to [other VR platform]?
We're interested in supporting additional VR platforms, but we don't have any specific information to share, sorry.
When are 3D and 360º videos coming to other player apps or the Plex Media Server?
No other Plex app  currently supports automatic switching based on file name on the various devices they may be played on. We hope to address this in the future but again sorry, no ETA.
Last modified on: May 28, 2020