As of Plex Media Server version 1.20.0  when you create a "movie" library, it will default to use our "Plex Movie" metadata agent. Existing movie libraries will remain unchanged but you can upgrade them in a few clicks. Most users should not notice much has changed when moving to the new agent except for the much improved matching speed. Read on if you want to find out more about what's changed.
Upgrade an Existing Library
Note: before upgrading please make sure your server has an active internet connection.
Upgrading a library is super easy: just select the ellipsis menu icon for your library in the sidebar and select Manage Library > Upgrade Matching. You'll be presented with a dialog confirming your action with some information explaining how your existing items will be affected.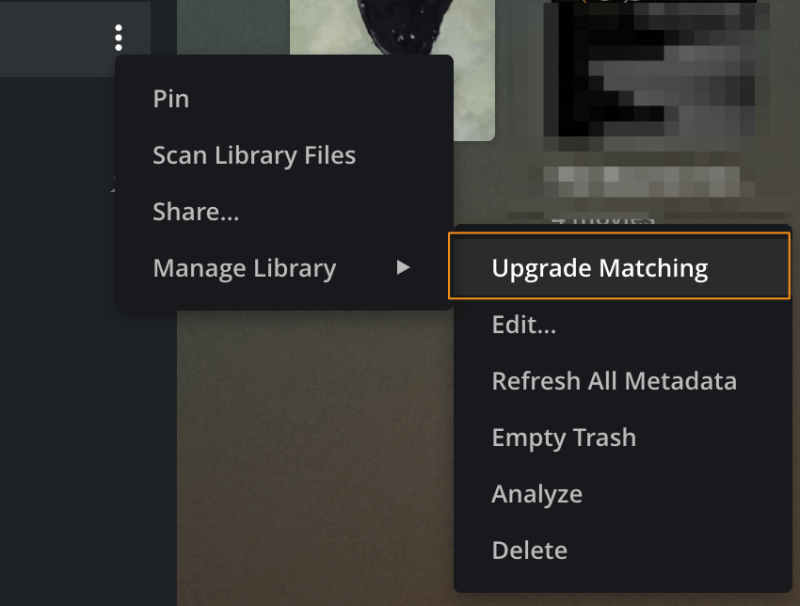 So what does this actually mean?
Library matching is how we take a file you've added to your server and figure out which movie it corresponds to, so we can provide all the rich metadata that comes with it. The metadata includes most of the information you'll see when navigating to the movie in your library—things like the title, summary, release year, posters, cast list, etc.
As not all the data we use in our new system is exactly what the old agent would use, you may notice some changes to existing metadata when upgrading. Metadata fields you have locked will not be changed, however. If you are just creating a new library you don't need to worry about this.
Locked fields will have the padlock icon colored orange.
During an upgrade we'll also migrate any specific settings you may have set on the previous agent that have corresponding settings on the new agent. These are the settings like trailer preferences, collection and artwork preferences, etc. You can adjust these again later by editing the library and navigating to the Advanced tab.
Some of my movies are not matching or are matching incorrectly?
While we've tried really hard to accommodate many different file naming conventions, we always strongly recommend that you follow our standard naming and organizing guidelines for your movie files.
Related page: Naming and organizing your Movie files
If you're still finding that we're having a hard time matching something specific you should use the Fix Match option to locate a better match. If this still fails to get the result you're looking for then please drop a post on our forum so we can take a look.
Related page: Fix Match / Match
As there are a lot of under-the-hood changes here there may be some edge cases we've missed, if you see something that doesn't look quite right or you have suggestions please reach out on the forum.
Metadata Forum: Forums: Metadata & Adding Files
What's Changed?
While we suspect most people won't notice that much has changed when using the newer "Plex Movies" metadata agent, we've made a lot of improvements and updates to a few key places.
Regional Language Support
We've added a few new language options as we know this has been a sore point for many. With the new Plex agent in 1.20.0 you can now select the following new language options:
Spanish (Mexico)
French (Canada)
Portuguese (Brazil)
Chinese (Taiwan)
Chinese (Hong Kong)
English (Australia)
English (Canada)
English (United Kingdom)
We'll continue to add more options here as long as there is demand for it, so if you see a language we should have that we don't yet support please let us know.
Improved Support for Local Assets
The previous movie metadata agent(s) would require you to set the "Local Media Assets" agent source as primary in order to use local posters and artwork as the default options for your movies. This would also result in it using any embedded metadata that may be present in the media file which wasn't always a great experience.
The new "Plex Movies" agent gives you the option to use local image assets independently from any embedded metadata. Setting the Use local assets preference will pick up any local image assets and use those over the ones pulled from the cloud.
If you wish to use embedded metadata from your media you can set that with the Prefer local metadata option. We don't recommend ever enabling this option unless you very specifically have your media tagged in a manner to support this.
Note: If you have upgraded an existing movie library that had "Local Media Assets" as the primary agent then both these settings mentioned above will be enabled for the new agent.
Collections Got an Overhaul
If you ever wanted us to only give you collections when you had more than one item in your library from said collection you can now rejoice. A new advanced setting, Minimum automatic collection size, will allow you to tweak the threshold at which we'll automatically add a new collection to your library. You can tweak this setting between Disabled (no automatic collections) and 4.
Along with this we also now provide great posters and art for these collections as well as short summaries.
Note: if you're upgrading a movie library that has existing collections we will not overwrite any of their existing metadata fields, this includes things like posters, art, and summaries. The new improved metadata mentioned above will only apply to newly created collections with the new Plex agent.
Last modified on: August 5, 2022