You can use the Plex app on your Android device to connect with your Chromecast and play content. It's important to note that the Chromecast streams content directly from the Plex Media Server. The content does not go "through" that device and then to the Chromecast. Instead, it's sent directly from the server to the Chromecast.
Note: The remote control homescreen "widget" for the Plex app cannot control Chromecast. Only the actual Plex app can do so.
Prerequisites
Casting support is currently only available when using the "Mobile" Application Layout; it is not available in the "TV" layout
Casting requires a device using Google Play Services (Amazon devices do not support that, for instance)
Selecting your Chromecast
Once you're ready, simply go to the Players icon at the top right and select your Chromecast there.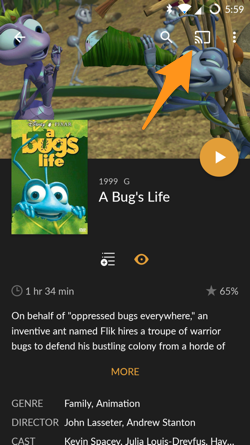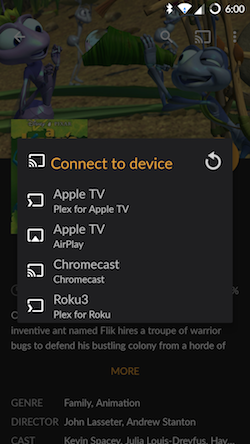 This will set the Chromecast as the device on which you want content played.
Playing your Content
Initiating Playback
With the Chromecast selected, you can use the interface as normal. When you choose to play something, it will play on the Chromecast instead of in the Android app. As you browse content on your device, details about that content will be mirrored and displayed on Chromecast for everyone to see.
Controlling Playback
Once you start Playback on the Chromecast, you'll see a Now Playing screen on your Android device: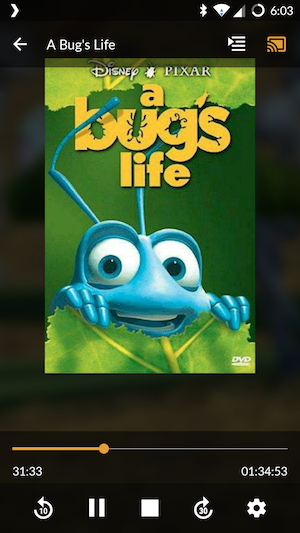 You can use the Now Playing screen to control playback on the Chromecast. Pause, stop, or scrub within the playback timeline.
Disconnecting from the Chromecast
When you no longer want to output to the Chromecast, simply go to the Players icon at the top. You can then choose to Disconnect. Once you disconnect, any subsequent content you play will be played on the Android device and not the Chromecast.
Last modified on: February 27, 2019