Discover Credits are a great way to see a consolidated view of all the information you need for an actor, director, or writer in which you're interested. View their filmography, which titles they're "known for", titles available from a Plex Media Server to which you have access, as well as titles from Plex's own free Movies & Shows streaming.
How to Access
Discover Credits can be accessed by either selecting their image in the cast hub on a details page, or in the People section of search results.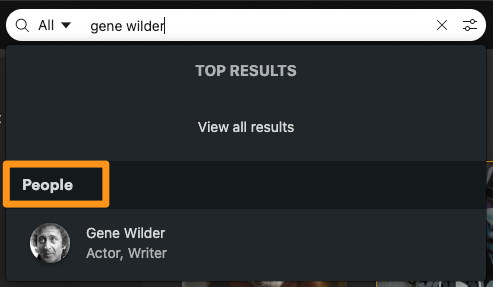 What Information is Included
An image, biography, and social media links (when available).
Movies & Shows in Media Libraries: Movies and TV shoes which are available from a Plex Media Server library to which you have access.
Media Libraries: A list of Plex Media Server libraries which contain that person's content. Selecting a library entry will go to that library, filtered on the person.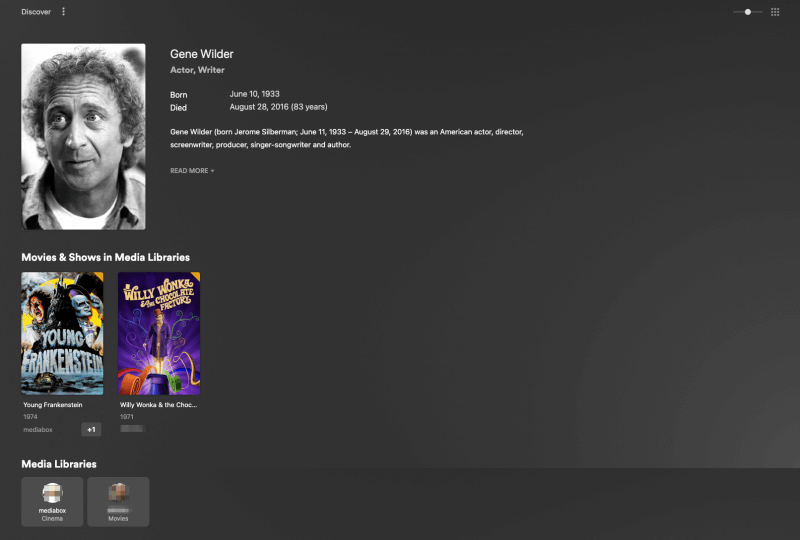 Movies & Shows on Plex: If you have the Movies & Shows source enabled for your account, you'll see a list content available from our free service, which the person is in. These will lead to the Movies & Shows details page. ​​Related page :
Known for: Well known content the person was involved with. For an actor it might be their most famous roles. These will lead to a universal details page.
Filmography: A list of all media we know they were involved with as a main actor; had appearances in; or was involved as a writer, director or producer. The most recent entries are listed first. Clicking on a title will lead to the universal details page.

If available on a Plex Media Server you have access to or Plex's own free Movies & Shows, there will be a link to the details screen of those sources.
On TV based apps there will be a button under the biography to get to it and will link to universal details pages.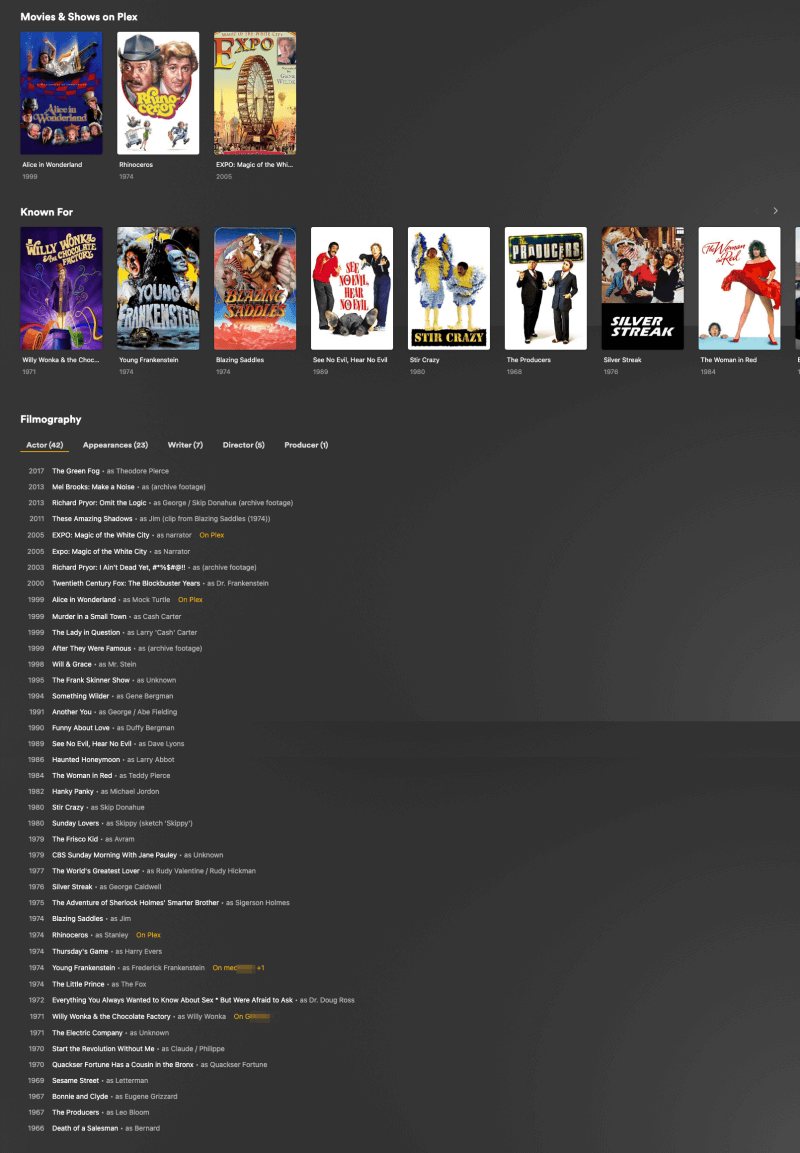 Frequently Asked Questions
Can Managed Accounts see this?
Managed accounts can access the credits page but cannot currently view the Known For, or Filmography sections. This is a limitation we'd like to improve in the future.
Can this be disabled and just have it go to a filtered library grid?
Discover credits cannot be outright disabled but there are some cases where it will not show up and will route you to a personal server library with a filtered list of content. Below is a list of reasons it would go to a filtered grid:
"Include adult content" is enabled for the library
The library uses a legacy metadata agent (not our current, recommended agent).
You can fix that by upgrading the library to use the newer metadata agent, doing a library scan, and then refreshing all items in the library.
Related Page: Upgrading an Old Movie Library to Use the Plex Movie Agent
Related Page: Migrating a TV library to use the new Plex TV Series Agent/Scanner
Items in a Plex Media Server library have not been refreshed to pick up the new actor/writer/director information.
Assuming the library has already been upgraded (see above), you need to refresh the metadata for the items in the library.
Related Page: Library Actions
Which apps are supported?
Amazon Fire TV
Android mobile
Android TV
Apple TV
iOS
Linux (desktop)
macOS (desktop)
Roku
PlayStation
Plex HTPC
Plex Web App
Smart TV supported models
Windows (desktop)
Xbox
Last modified on: March 15, 2023