With free movies, documentaries, and TV content, Plex can help make your mediaverse bigger than ever. All Plex users are able to access free, ad-supported content to stream whenever they like. Parents can also create accounts for their children and set profiles to control what sort of content is accessible.
Related Page: Frequently Asked Questions - Video on Demand
Supported Apps
The following Plex player apps can access our Video on Demand content:
Amazon Fire TV
Android mobile
Android TV
Apple TV
Chromecast
iOS (requires iOS 10+)
PlayStation
Plex Web App
Roku
Smart TVs (LG 4K/UHD [webOS 3.0+], Samsung 2016+ UHD)
Xbox One
We'll continue working to bring support to our other apps, too.
Navigation
By default, the Movies & TV (on Plex) source will appear in your app sidebar/navbar. Simply select that source to access the free, streaming content from Plex.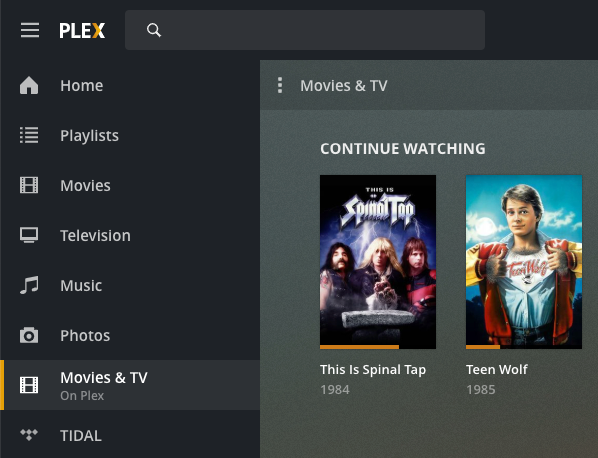 There, you'll find numerous recommendation rows for different types of content. Explore around and see what cool stuff you find!
Related Page: Navigating the Big Screen Apps
Related Page: Navigating the Mobile Apps
You can, of course, also customize the sidebar/navbar to reorder the items or unpin one, just like normal.
Related Page: Customizing the Big Screen Apps
Related Page: Customizing the Mobile Apps
Enable/Disable Access
You can control whether the Movies & TV (on Plex) source is available for your account at all. Parents or administrators of a Plex Home can also control whether it's available for managed users they've created.
Open the web app when signed in to your Plex account
Under the user menu on the top right, choose Account
Select Online Media Sources under the account settings
Edit the desired online source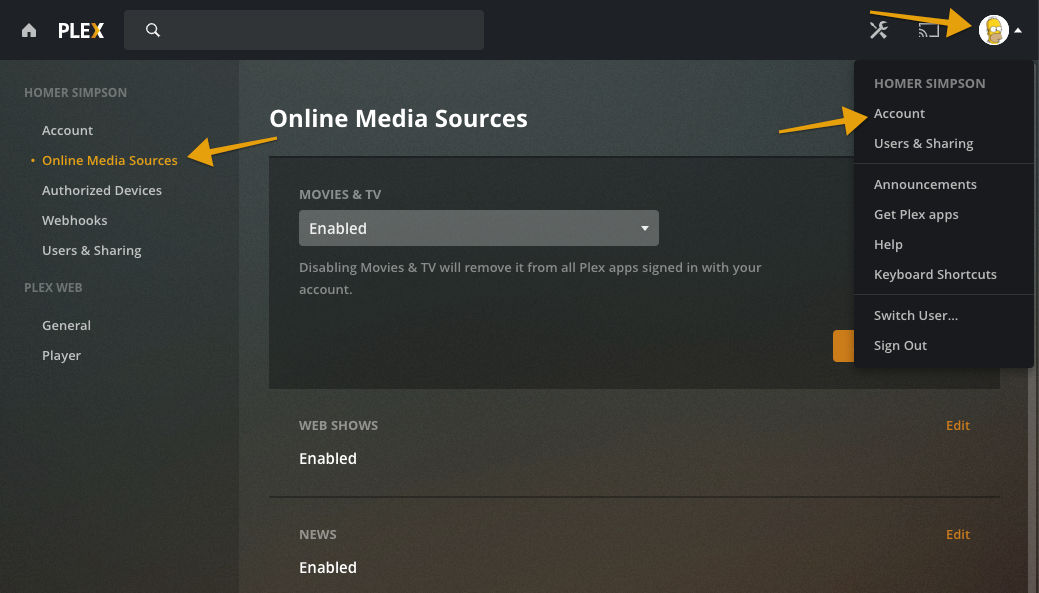 You can choose from the available options:
Enabled – The administrator account as well as all managed users and accounts with preset profiles can access the content
Disabled – Neither the administrator account nor any managed users or accounts with preset profiles can access the content
Disabled for Managed Users – The administrator can access the content, but no managed users or accounts with preset profiles can access it
Related Page: Parental Controls
Related Page: Plex Home
Last modified on: March 31, 2020