The following big screen Plex apps currently run this interface:
Amazon Fire TV
Android TV
Apple TV
Plex for Mac/Windows
Plex for Smart TVs
Roku
Tip!: Customizations are associated with the particular app install. If you delete and reinstall Plex, the customizations would be lost.
Related Page: Navigating the Mobile Apps
Edit the Home Screen
Customizing what's included on your Home screen and how it's displayed is a great way to make Plex work just like you want. Our apps allow you to choose what content appears on the Home screen as well as the content order.
Managing home screen rows/hubs in the manner described below will be going way on April 22, 2021 and replaced with the new recommendation management Manage Recommendations
Reset Home Customization
If you would like to revert all changes that have been made to your Home screen, you can do so using Reset Home Customization. This option can be found by navigating to the top of the Navigation Sidebar, opening the User Menu, and selecting Reset Home Customization. 
Note: Using this option will reset all customization changes made in the app, including source/home screen ordering. If you have access to multiple Plex Media Servers, you will then be prompted to select a preferred server as well as the initial sources to display in the Navigation Sidebar.
Edit the Navigation Sidebar
From the navigation sidebar, you'll be able to choose which source to view, if you have access to more than one. For instance, you might have your own library of photos as well one shared with you by a friend or family member or maybe you have multiple TV libraries of your own. To choose which source you wish to view/access, you simply choose from the navigation sidebar if the item has been pinned to your sidebar (if the source has not been pinned, it can be found by selecting more + from the sidebar). By default, they'll be arranged with sources from your preferred server listed first followed by other sources located in the More + section.
Reorder Navigation Sidebar
Most people will only have one or two sources available for any particular media type, but some people might have several. In that case, you may wish to customize the order in which they're displayed—so that your favorite or most commonly-used one is at the top, for instance.
Each item listed in the navigation sidebar can be reordered or unpinned by highlighting the item and selecting the ... entry.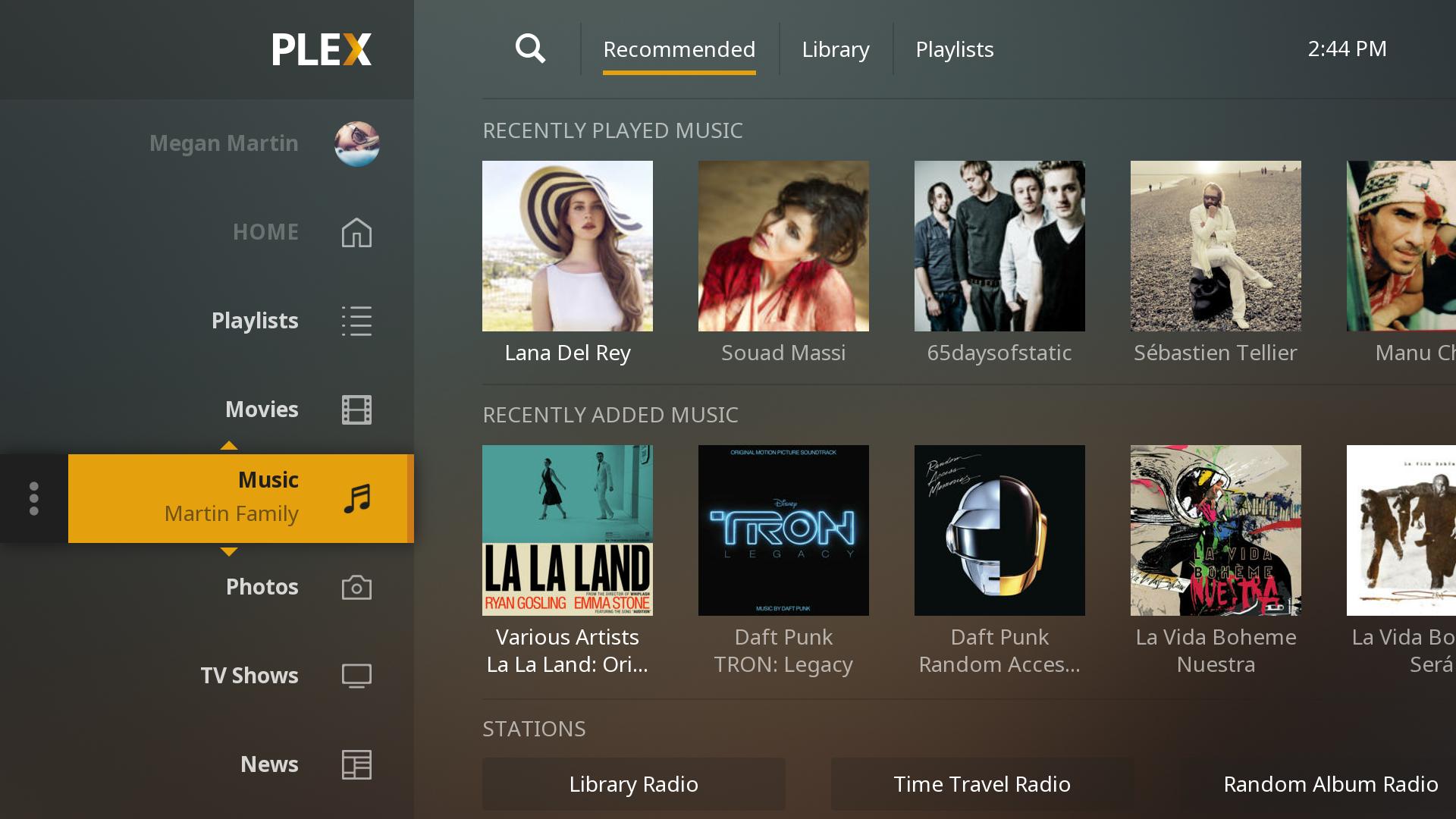 Select a source and you can then move it up or down in the list, to order things as desired.
You can also choose the More + entry to view additional items or to pin them to the sidebar. Using the ... entry you can pin new items to appear in the main navigation sidebar area (By default, new items will be placed at the end of the list).
Last modified on: June 10, 2022