By default, the Plex Media Server data directory (which contains content such as the databases, metadata, and more) is located in an internal storage location that is not user-accessible. In some cases, users may wish to move the data directory to an accessible location of the internal storage or a removable drive.
Note: When adding an external drive to NVIDIA SHIELD, it can be treated as a replacement for the "internal" storage, or as "removable" storage. This article assumes it's set up as "removable" storage. In Plex settings, the removable storage location will be listed with the drive name.
Related Article: Media Storage Options for NVIDIA SHIELD
Moving the Server Data Directory
Follow these steps to move the Plex Media Server data directory to a user-accessible location:
Open the Plex client app and go to Settings at the bottom of the left sidebar
On the Plex Media Server row, select Storage Location.
A warning screen will appear, indicating that the move can take quite a while to complete and that if you choose a "removable" storage location, the drive must remain connected when Plex Media Server is running. Cancel or choose Let's Do It to continue.
Choose the location for your server data directory. The available choices can include:

Internal Storage (system storage location): The default location, which is not user-accessible
Internal Storage (user accessible storage location): A user-accessible location on the regular internal storage
[removable drive name]: The name(s) of one or more removable drives that are connected

Select your option and then choose Continue (or Cancel if you are unsure).
The move can take a while to complete; you'll see a spinner while it's in progress.
Select Finish.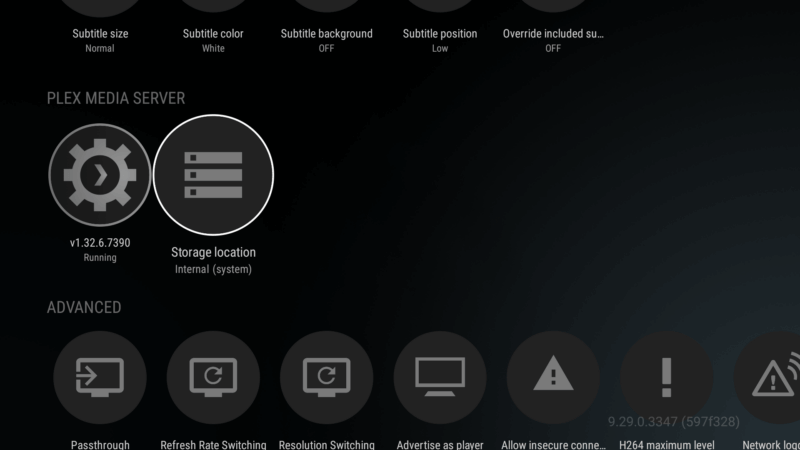 The Storage location item in Settings will indicate the current location for the Plex Media Server data directory. Internal (system), Internal(user) or with the name of the removable storage drive (which is called "Media" in the image below).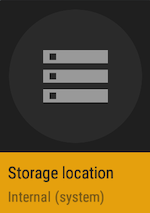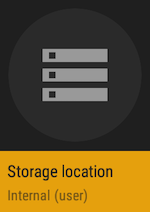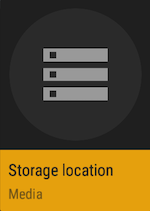 Accessing a User-Accessible Server Data Directory
Use a standard method to connect to the NVIDIA SHIELD to access the storage, such as that outlined in our Accessing SHIELD Storage article.
Once connected, the actual path to the server data directory will vary, depending on whether you chose the user-accessible "Internal Storage" or a removable drive. The specific path information is found in our central Where is the Plex Media Server data directory located? article.
Related Article: Where is the Plex Media Server data directory located?
Related Page: Accessing SHIELD Storage
Last modified on: August 14, 2023