Tip!: You must have your compatible tuner & antenna connected to your Plex Media Server to be able to tune over-the-air broadcasts. The ability to record broadcasts (e.g. DVR) is a premium feature and requires an active Plex Pass subscription.
Settings related to DVRs associated with your Plex Media Server. You can access these under Settings > Live TV & DVR in Plex Web App.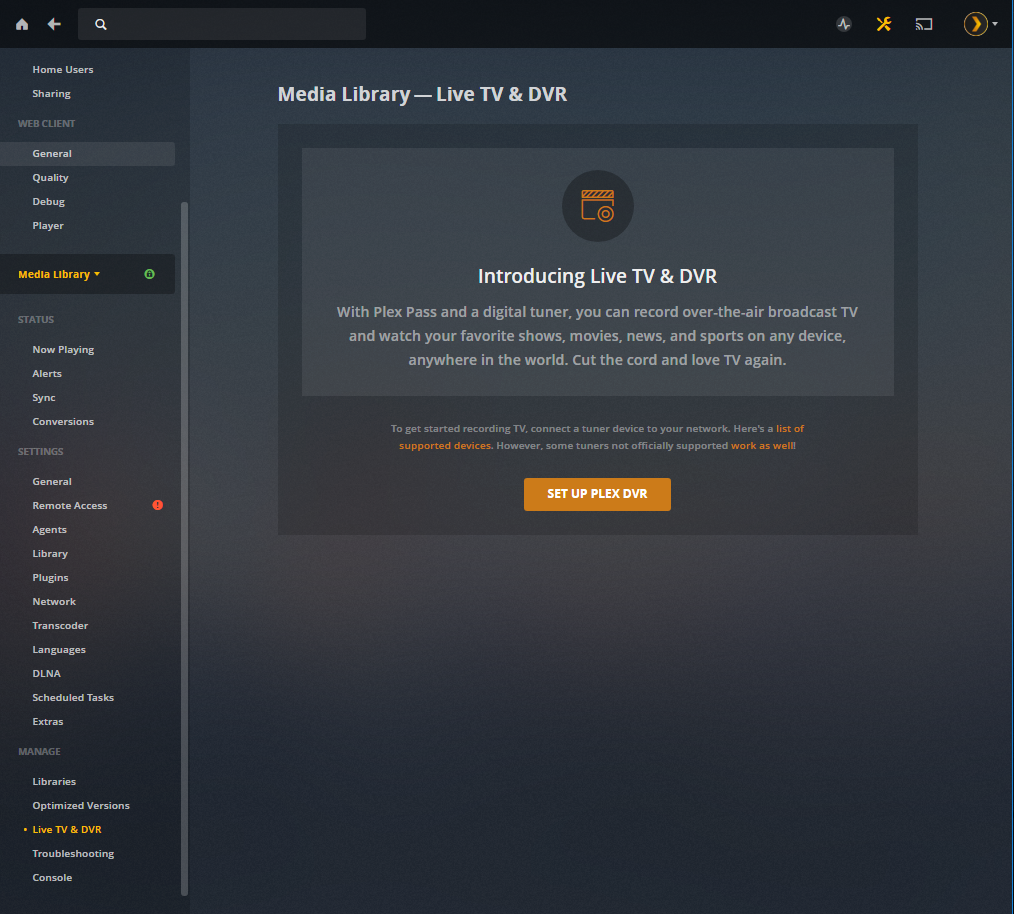 Related Page: Opening Plex Web App
Create a DVR
To start the process, click the DVR Setup button, which will open the wizard to guide you through the setup of a DVR.
When you first open the wizard, your server will automatically search the network to try and find any compatible devices. Any devices found will be listed.

If your DVR device isn't automatically detected, you can click the link to allow you to manually specify the device's location.

Select the DVR and you will see any channels that have been found. You can also choose to Scan Channels manually here. In addition, you can choose whether the input is via Antenna or Cable as well as set your country.

Once you have the channels scanned and you continue on, you will need to specify your location so that an Electronic Program Guide (EPG) can be found for you. Select your language and input your postal code, then continue.

We'll quickly search and find the best program guide to match your channels and location.

Once the appropriate program guide is located, you will see a mapping of the channels from your device alongside the channels from the program guide. You can uncheck a channel to not include it for your DVR as well as adjust which channel from the program guide maps to which channel from your DVR.

Once you save, your server will begin downloading data for your Program Guide. You can wait until it completes here or you can close the wizard and continue using your server as normal.

Browsing the Program Guide
Now that you've set up and configured a DVR, you can begin browsing your Program Guide, just keep in mind that more data may still be downloading. Particularly if you're setting up a cable-compatible DVR, it may take quite a while to download the data for all the available channels.
Related Page: Program Guide
Manage the DVR
Once you've added a DVR, you can adjust several things.
You can:
Manually Refresh Program Guide (your EPG will also automatically refresh, so you normally do not need to use this)
Access DVR Settings to adjust global settings related to the DVR
Access Device Settings (the gear icon next to the device name) to adjust settings related to the physical tuner device
Manage Channels to adjust the channels related to the DVR tuner
DVR Settings
It's possible to adjust global settings associated with the DVR entry itself.
Minutes Before Start
Start the recording early. Specify the default number of minutes before the scheduled airing time to start each recording.
Minutes After End
Keep recording after the scheduled end time. Specify the default number of minutes after the scheduled airing time to end each recording.
Enhanced Program Guide
If this option is enabled, then your server will try to download richer program guide data for some shows and movies, when it's available. Enabling this will make refreshing the program guide (either manually or when your server does so automatically) slower.
Postprocessing Script
If you have set up a script to perform postprocessing on recordings (prior to them being added to the library), specify the full path to the program here. Beginning with Plex Media Server v1.19.3, the script must be located inside the /Scripts subdirectory of the main server data directory.
Tip!: Most users won't have any postprocessing script.
Related Page: Where is the Plex Media Server data directory located?
Remove Commercials
You can optionally tell your server to attempt to detect and remove commercials from recordings automatically. Detection is not always perfect.
Related Page: Removing Commercials
Device Settings
You can open up Device Settings related to the DVR that you set up. Available options can vary depending on the particular DVR you have.
HDHomeRun EXTEND
The HDHomeRun EXTEND model has its own built-in transcoder, so it is capable of converting the content itself.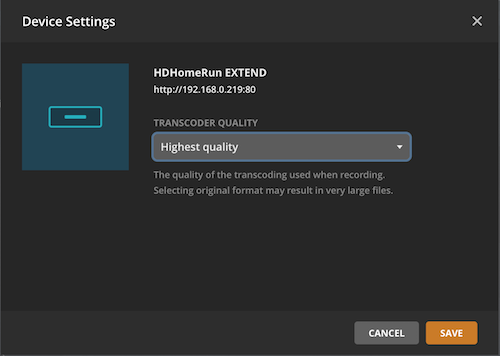 Transcoder Quality
You can adjust the quality used when the EXTEND transcodes the content. If enabled, it will transcode the video stream to H.264. Available options:
Original format
Highest quality
High quality (30 fps limit)
Medium quality (540p)
Medium quality (480p)
Low quality (360p)
Low quality (240p)
Tip!: Original format means the device will not transcode to H.264 at all and instead use the native stream (usually MPEG2). We recommend using the Highest quality setting if you wish to make use of the built-in transcoding.
Other HDHomeRun Devices
Other HDHomeRun models do not have a built-in transcoder.
Convert Video While Recording
This is an experimental feature with the following options:
Off – Video and audio streams will be left as-is and the content placed in a standard TS container.
Transcode – Transcode the video stream to H.264 and place it in a standard TS container. This helps save space and make the content more compatible with player devices, but it requires a fast CPU. (Audio is always retained as-is.)
Manage Channels
After you've added a DVR you can go back and manage your channels, if desired.
You can re-scan channels, adjust the channel mapping, or uncheck channels that you no longer wish to show up in your Program Guide.
Last modified on: March 15, 2021