There are two main ways that parents can control the content their managed user are able to watch: Restriction Profiles and Online Media controls.
Restriction Profiles
Plex parents can create managed user accounts for their children and apply a preset profile to it. These profiles are designed to restrict access to content based on content ratings. These affect media accessed from "movie" and "TV" libraries on a Plex Media Server as well as Video on Demand content. (It does not apply to Live TV content or channels)
There are several preset profiles available:
Younger Kid: allows TV-Y, G, TV-G, and other equivalent ratings
Older Kid: allows all the ratings from the lower profile as well as TV-PG, PG, and other equivalent ratings
Teen: allows all the ratings from the lower profiles as well as TV-14, PG-13, and equivalent ratings
None: Can see all content ratings.
When selecting "None" users with an active Plex Pass subscription can set advanced restrictions based on custom labels and content ratings.
Note that restricting will also remove the ability to view Plex Media Server libraries by Folder. This is because folder names cannot be hidden.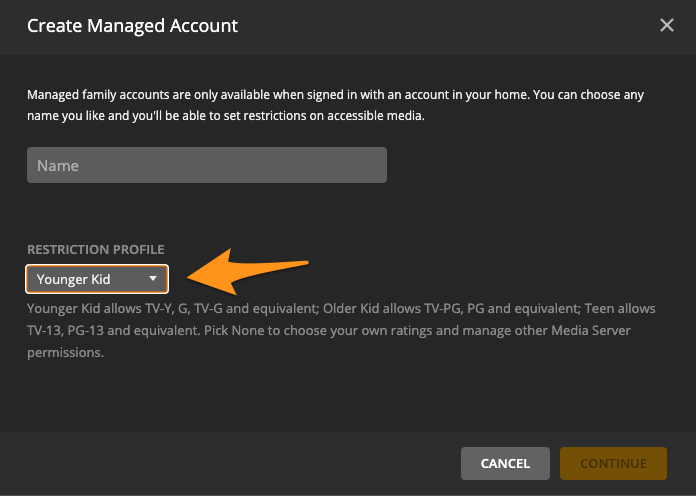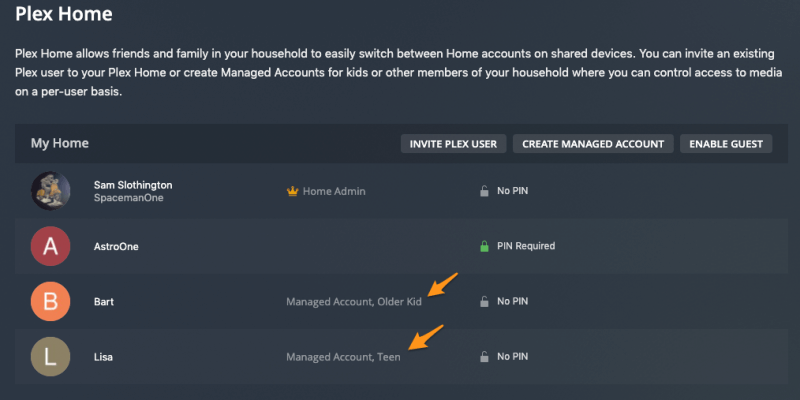 Related Page: Restrictions on Library Access
Related Page: Managed Accounts
Related Page: Plex Home
Online Media Controls
Online Media is content provided by Plex such as Movies & Shows or Live TV for your Plex users. If desired, parents can choose to completely disable any of these for their managed users, which will prevent them from being able to access that online media provider content at all.
Related Page: Managed Accounts
To access these settings:
Open the web app using the administrator Plex account
Visit Account > Online Media Sources
Edit the setting for the desired online media source
Available options:
Enabled – The administrator account as well as all managed users and accounts with preset profiles can access the content
Disabled – Neither the administrator account nor any managed users can access the content
Disabled for Managed Users – The administrator can access the content, but no managed users can access it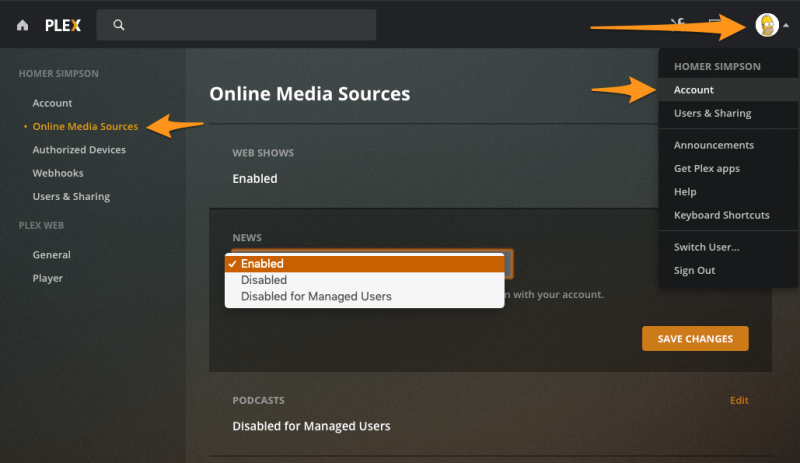 Last modified on: June 23, 2023