The administrator for a Plex Home has the ability to create Managed Users within that home. These are often used by parents to create an account for their children.
Note: In order to actually use a Managed User, you need to first sign into the Plex app as a regular/full member of the Home. Once you do so, you can then switch to the Managed User in supported apps.
Related Page: Example Plex Home Setup
Creating Managed Users
The admin of a Plex Home can create Managed Users under the Users & Sharing area in Plex Web App (or under the Friends area on our Android or iOS mobile apps). This is accessed under Settings > Users & Sharing.
Just like you can for a regular Plex account, you can set restrictions for a Managed User, and if you have a Plex Media Server you can share libraries. Plex Pass users will be able to set custom restrictions based on label or content ratings.
You can also create a Managed User on the fly from the Fast User Switcher screen on web, TV, and mobile apps.
Select the Add User option
Enter the admin's account PIN (if it has one)
Choose a name and rating profile
Select which libraries to share, if you have a Plex Media Server
Admins that have a Plex Pass can select Sync and Live TV & DVR options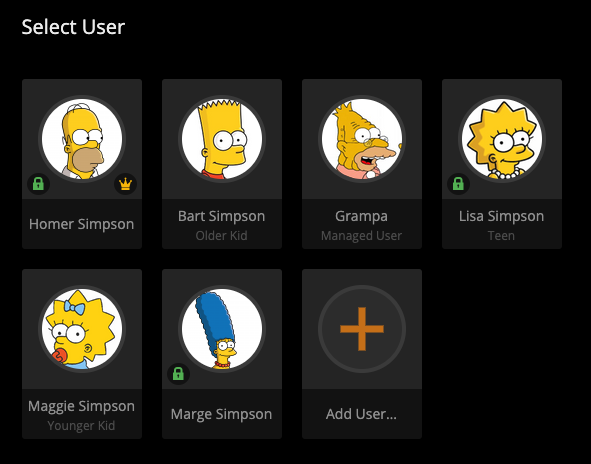 Tip!: You can similarly create managed users from your Android or iOS mobile app. Access that functionality under the Friends icon at the top of the app sidebar.
Related Page: Creating and Managing Server Shares
Related Page: Restricting the Shares
Related Page: Parental Controls
Differences from Regular Plex Accounts
Managed Users have some notable differences from a regular Plex account created on the Plex website.
No unique username is required
No email address is required
No password is required
Cannot sign in directly themselves (a full/regular member of the Plex Home needs to sign in first, before switching users)
Cannot share with users outside the Plex Home
Cannot run a Plex Media Server of their own
Tip!: A Managed User is great for situations where the admin of a Home doesn't want a member to need a unique username/password or else be able to interact outside of the Home, such as an account for a young child.
Last modified on: March 23, 2020