You can easily share one or more of your libraries with family or friends. The ability to share is intended for use with family and close, personal friends.
Getting Started
Plex Media Server
Your Plex Media Server needs to be signed in to your account. Make sure you've done so under Settings > Server > General after selecting the correct server from the left menu.
If you'll be sharing with someone away from where you live (i.e. outside your local network), then you will also need to successfully enable the "Remote Access" feature, so that your server will be accessible to them.
Related Page: Sign in to Your Plex Account
Accessing the Users & Sharing Area
Managing your server sharing is done under the Users & Sharing area in Plex Web App. You can access this under Settings > Users & Sharing in Plex Web App.
Alternatively, you can also access the Users & Sharing item under the account menu dropdown at the top right. On Mobile in the side bar navigation.
Related Page: Plex Web App
Sharing
Create a New Share
From inside the Users & Sharing, use the Share Libraries button to open the invite wizard. On Mobile click the "+" to invite a new user and share libraries.
Username or Email
Enter the username or email address for the Plex account you wish to invite and click continue. If it is an existing Plex account there will be a green check next to field and the matching username below.  If you invite someone who doesn't yet have a Plex account, they'll be able to create their own, free Plex account when accepting your invitation.
Select the Server
Plex Media Servers associated with your Plex account will be available. For each server, you can choose whether or not to share content with the friend.
Select the server name to share all libraries or you can unselect it to choose only individual libraries to share.
Set Restrictions and Inviting to Home (Plex Pass required)
If you have a Plex Pass subscription you can set restrictions to allow you to more finely control access to content you share. You can choose whether or not the friend is able to sync/download shared content. Plex Pass subscribers can also select specific content ratings from your library to share as well as content that you've set with a specific "label". In the Web app you can also choose to invite them into your Plex Home .
Related Page: Restricting the Shares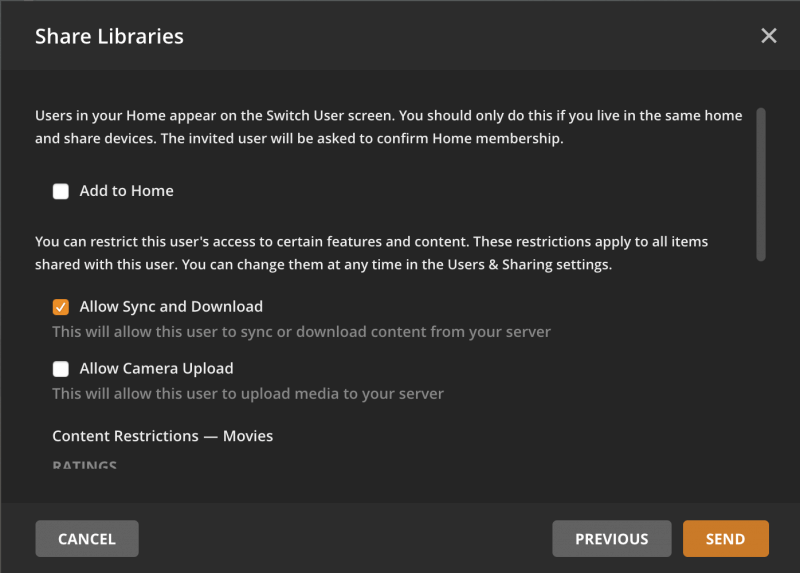 Click Send to finish the share and send your friend an invite via email.
The last screen has a special link which is the same as the Accept link in the email your friend receives. If you want or need to give it to them over via some other communication tool, you can copy this link and give it to them. Click Finish to complete the share process.
Edit an Existing Share
If you're already sharing content with a friend, you can edit the sharing information from the Users & Sharing page whenever you like.
Select a Friend to Edit
Click anywhere on the the friends row (except the X on the right) to edit the share settings.
The page will change where you can edit the Shared Libraries and if you have a Plex Pass any Restrictions
Related Page: Restricting the Shares
Remove a Friend
If you wish to remove the friend altogether, you can do that, too. Simply use the

button on right the friend's entry row.
Accept an Invitation
If someone shares a server with you, there are two ways in which you can accept the invitation: via the email you receive or directly in your Plex Web App.
Accept Via Email
When someone shares a server with you, an email invitation is automatically sent. When you open the email, it will contain a link that you can click to accept the sharing invitation:
Accept Invitation Via Website
After someone shares a server with you, you can view any pending invitations online in the Plex Web App.
In the Settings > Users and Sharing you can review pending invites.
For each pending invite, you can choose to either accept (

) or decline (

) the invitation.
If you accept, the share will be added to your Friends.
Mobile Views
Last modified on: June 13, 2021