Connect with friends on Plex to share what you're watching, what's on your Watchlist, or exchange content recommendations. You can control what information your friends can see on your profile, including your Watch History, Watchlist, Ratings and what is shown on the Activity Feed and Detail Pages. This is separate from the Plex Media Server library access you may have granted or been granted. While you can grant library access from the Friends page as well, you can still be friends with someone without that.
You can access your friend list from the Discover page tabs, or by clicking on the title of the Friends hub/row on your profile.
Related page: Profile
Related page: Activity Feed
Adding a Friend
There are two main ways to add a friend. On both the Friends page and when granting access to libraries, there will be an option to add an account as a friend.
..via the Friends page
On the Friends page click the Add Friend button
Type in the username of someone you would like to be friends (must be an exact match) and click the yellow Add Friend button
If you did not previously have any friend requests, a new Requests button will appear which you can use to view any pending friend requests you made or ones made of you waiting to be accepted. If you wish to cancel the friend request, you can do so from that screen
The account you sent the request to will get a notification in app about the request and an email, either of which they can accept from.
…when Granting Library Access
During the flow to grant library access, the last option will ask you if you would like to be friends with that account as well.
Related Page: Managing Library Access
Removing a Friend
If you no longer wish to be friends with a user click on their avatar or username to view their profile then click on the Friends button under their profile info. A confirmation window will appear.
Note: Any existing library access will remain. If you wish to remove library access as well, visit your accounts Manage Library Access page.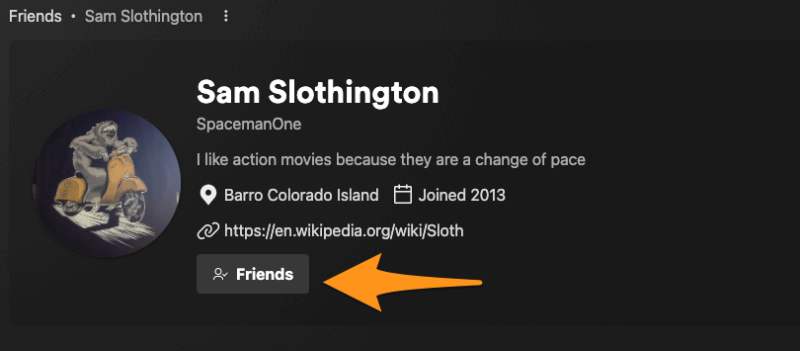 Frequently Asked Questions
I want to remain friends with an account but can I stop seeing all their activity in feed?

Yes you can mute any friend to stop viewing their activity in feeds. You will continue to be able to see info on their profile and get any messages they send
Related page: Mute & Block

Do I have to be friends with someone to give them library access?

No, you can do those things separately. While in many cases when you give or receive access to a library you'll also want to be friends, it's possible to have library access without being friends in Plex. Similarly, you can be friends and not have access to any Plex Media Server library.
Last modified on: July 11, 2023