The Activity Feed is part of Discover. You can access your Activity feed at any time, which shows activity both that you've done as well as from your friends. You can share your thoughts with your friends and discover what they've been up to, as you interact with movies and TV shows from Plex's Discover feature, our free Movies & Shows streaming service, and any Plex Media Server to which you have access.
The Activity feed is currently available in these apps:
Plex Web (v4.88.0 and newer)
Android mobile (v9.6.1 and newer)
Android TV (9.12.2 and newer)
Apple TV (8.15 and newer)
iOS (v8.7.1 and newer)
Smart TVs (v5.53.5 and newer)
Playstation, Xbox (v5.53.5 and newer)
Plex HTPC  (v1.32.2 and newer)
Roku (v7.0.30 and newer)
Activity Events
There are four types of events that will show up in your activity feed. You can choose which of these three types of activity you wish to share with friends or keep private in your account profile.
If the same action is taken within 10 minutes of each other the more recent will replace the first. For example if you rate something 5 stars and  it shows up in activity feed then in less than 10 minutes later you realize it should have been 3 stars and change, it the 5 star activity will be removed (leaving only the most recent event).
The following types of activity events are possible:
An item is marked as watched
An item is added to the user's watchlist
The user gave a star rating to an item
Messages
Note: To have the activity include events related to content on a personal Plex Media Server, you'll need to first enable watch state syncing.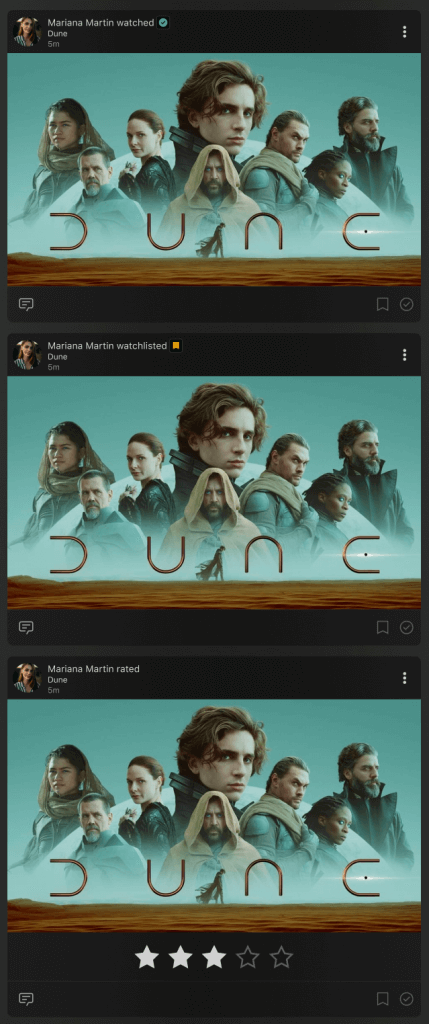 Activity for a single item can also be viewed on the detail page for that item. Click on the Activity to see the feed for that individual item. (If you do not wish to have this Activity module to show up on details pages, you can go to Settings > Online Media Sources in the Plex Web app and disable Display Activity from My Friends on Detail Pages in the Discover section.)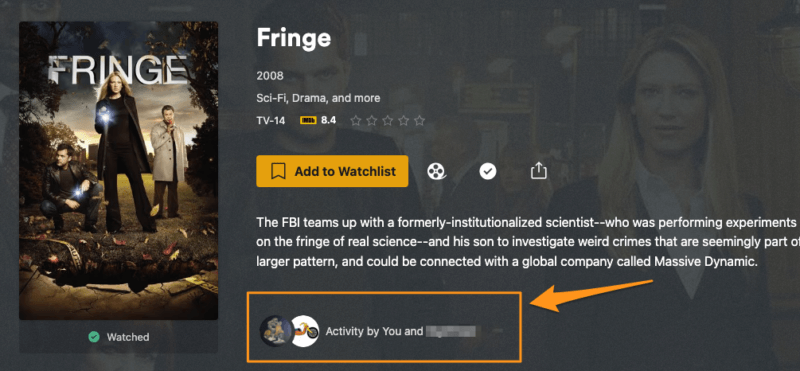 Shared Messages
Your friends that use the "Share" option on media can send you a message about that media item. This can be found in  the contextual menus for library media and, if enabled, the activity area of an item's detail page.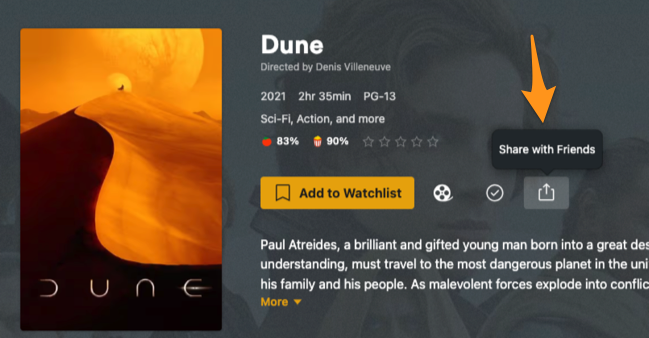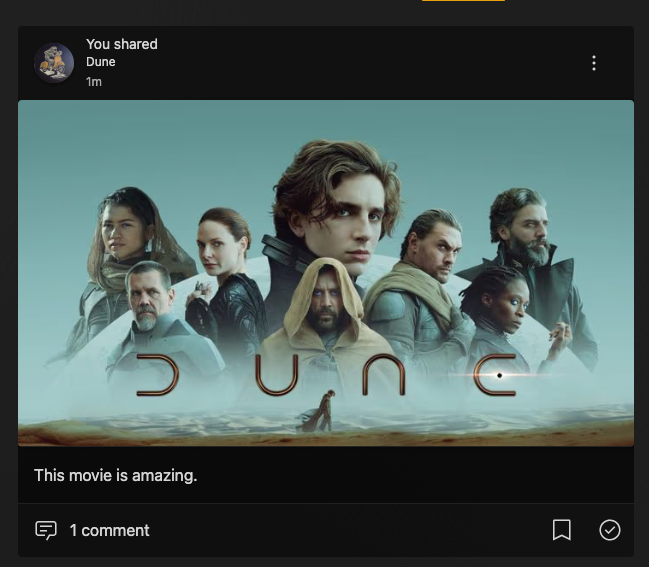 You can also comment on those activities by clicking on the comment/reply button. Clicking on "comment" will open up a new page expanding the thread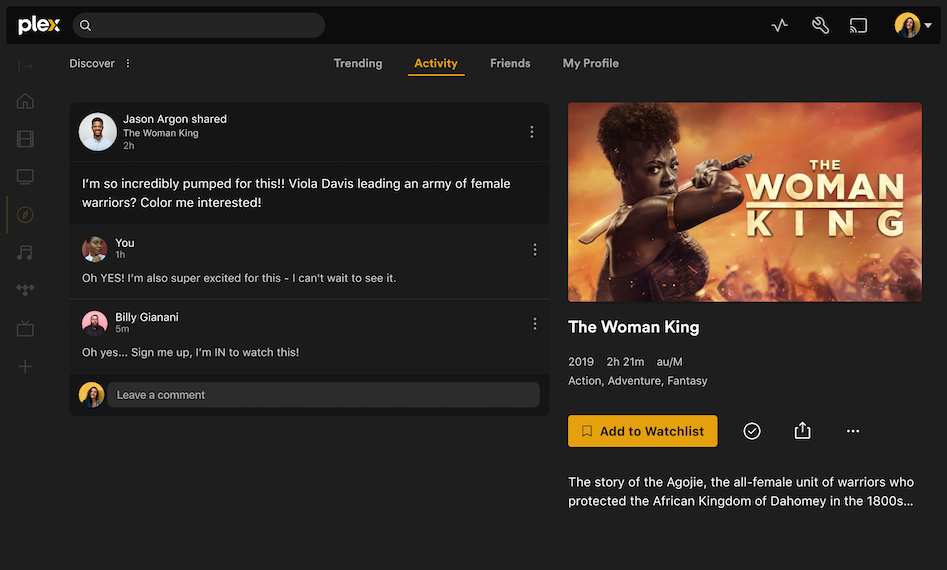 Interact with activities
For each activity card, there can be multiple different actions you might be able to take (depending on what the activity was):
Click/tap on the name or image of media to go to the corresponding details page
Add to or remove the media from your own watchlist
Mark the media as watched or unwatched
Share a message about it to your friends
Comment on an activity from your friends
Remove an individual activity of your own
Edit the watched date on Watch activities, if it happened on a different day than it was marked
Click/tap a friend's avatar to go to their profile and see only their activity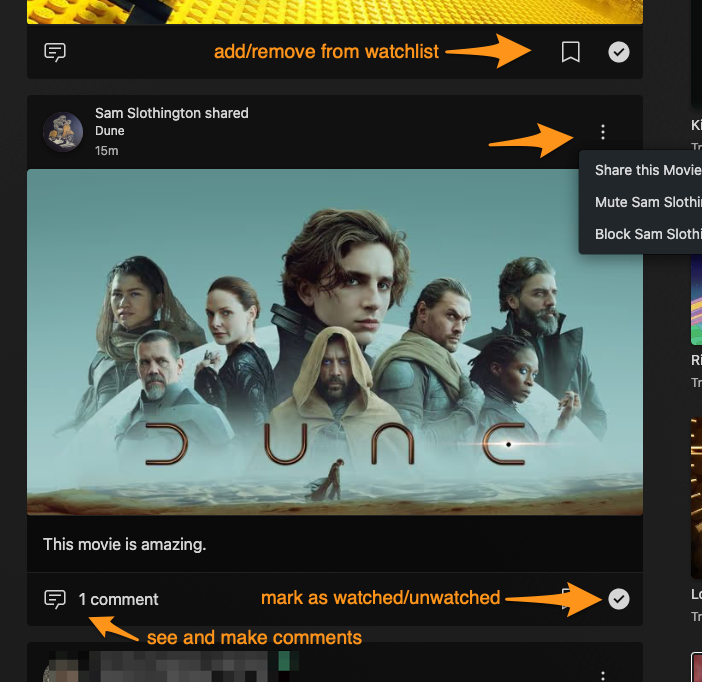 Notifications
There are also three different kinds of notifications you can receive about activities. Push and email notification can be enabled or disabled in the Settings > Notifications > Friends settings of the mobile Android and iOS apps.  Email notifications can be
My Messages: Shared Messages and Reports sent to you. Note that if the message was sent to All Friends then there will not be a notification sent.
My Friend Activity: Watched, Watchlisted, and Rating activities. These are digest notifications, which you can choose to receive either daily or weekly.
Comments and Replies: When someone comments on a Message that was sent
Related Page: Push Notifications
Frequently Asked Questions
I want to remain friends with an account but can I stop seeing all their activity in feed?
Yes you can mute any friend to stop viewing their activity in feeds. You will continue to be able to see info on their profile and get any messages they send where they specifically selected you as a recipient.
Related page: Mute & Block
I don't want to see any of this, so how do I turn it off?
The Activity feed is part of the Discover feature. If you don't want to see any part of it, you can:
Disable the Discover source in your account's Online Media Sources settings.
Change your notification settings.
You can also choose to hide Activity information on detail pages.
If you don't want others to view your activity you can set the types to private in your Profile settings.
You can remove any friends you have if you choose to (Being friends is not required to give or receive server library access)
If I set an activity to "Private" in my profile, why does it still appear in the Activity feed?
Your own activity always appears in your Activity feed. If an activity type is set to private, then your friends will not see that activity. In such a case, there will be an icon next to the title of the activity, indicating it's private (and thus, your friends cannot see that activity).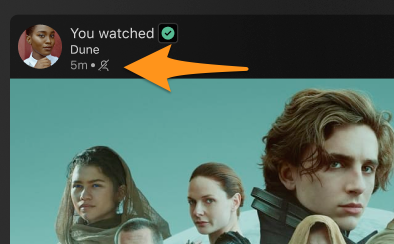 Does adult content show in the feed?
If the title has a plex guid and is flagged as adult content in our metadata, we won't generate an activity for it.
Last modified on: November 27, 2023