Tip!: The ability to send push notifications from a Plex Media Server is a Plex Pass feature.
Many people like knowing what's going on with a Plex Media Server they run or are interested in knowing when new content is available. To help you keep on top of things, it's possible to make use of "push notifications", which will let you know when certain events occur for a server.
Requirements
Plex Media Server: Version 1.16.0 or newer
If you already had this version or higher installed when the feature was released you may have to restart your server to see the new server setting.
Plex Mobile Apps
Android (version 7.17 or newer)
iOS (version 5.16 or newer)
Note: Remember to ensure that the Plex app is allowed to receive notifications in the system notification settings for both Android and iOS.
To use push notifications, both the Plex Media Server as well as mobile Plex app must be signed in to a Plex account.
Allow your Plex Media Server to send notifications
Not everyone who runs a Plex Media Server will want their server to be sending notifications, of course. Because this is a personal preference for server owners, you'll need to opt in to having your server send notifications, which is accomplished by enabling the setting for a Plex Media Server you own. For servers that are shared with you, the server owner must choose to enable push notifications for their server.
Go to Settings > Server > General and then enable the Push Notifications preference.
Media notifications won't be sent the very first time something is added to a library after the feature is enabled. You can manually scan for files (even if there is not anything new) on your server to initialize.

Note: When enabled, push notifications sent from your server are delivered using Plex services. These notifications are associated with your account and some of them may contain information about contents of your libraries.
Mobile Client settings
Your choices for receiving push notifications are saved to your Plex account, which means that all supported Plex apps signed in to your account will have the same settings. If multiple users use the same device, then the settings for the last signed in user will be used on that device.
Push notification configuration options are found under Settings > Notifications in both the Android and iOS Plex apps. After settings are changed they do not take effect until you leave notification settings.
Tip!:While all servers (owned and shared) to which you have access may be listed and can be configured, you can only actually receive notifications from servers that have enabled the sending of push notifications.
There are many different types of notifications you can configure and choose to receive.
Media
Media notification are related to content on the servers to which you have access—or in the case of "Playback started" content, from servers you own and run.
New Item in On Deck: Sent when an item is added to that library that causes your On Deck to change. You can specify all or specific libraries. (Note that while other library types may be listed, this only applies to "TV" libraries.)
New Content Added to Library: When new content is added to a Movie, TV or Music library. You can specify all or specific libraries.
Playback Started:  For server admins, you can be notified when a user you share with starts playback from your Plex Media Server. In the setting, you can choose which owned servers will report playback as well as for which shared users you wish to receive notifications. When enabling a particular shared user, make sure that you have also enabled the server(s) you share with them, so that you receive expected notifications.
System
System notifications are from servers which you own and administer.
New Devices: This notification is sent the first time a device accesses your server for any reason, which may come from background connection testing and doesn't indicate active browsing or playback. You can configure for all or individual servers that you administer.
Database Corruption Detected: If your Plex Media Server detects corruption in its database. You can configure for all or individual servers that you administer.
Database Backed Up: Whenever your server successfully completes a database back up via Scheduled Tasks. You can configure for all or individual servers that you administer.
Related Page: Scheduled Tasks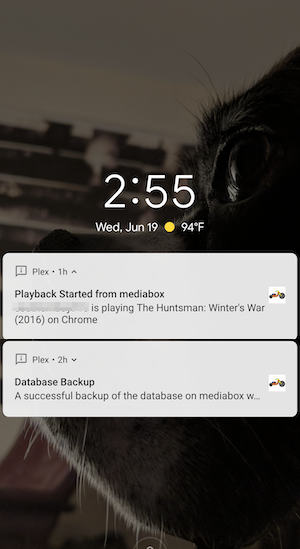 Last modified on: December 2, 2019