Plex Web App offers a fuller experience when signed into your Plex Account. When signed in, it will show you media from your account as well as enabling extra features if you're a Plex Pass subscriber. A Plex Account is a free and optional service that helps extend your media's reach.
Related Page: Plex Accounts
Sign In
If you are not signed in, you will be prompted to enter your username (your Plex account name or email address) and password or to sign up.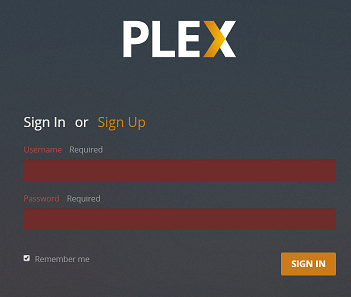 The Account menu will have additional options once you're signed in.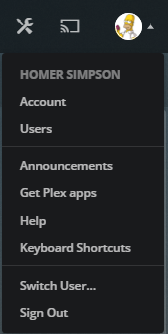 Related Page: Account Information
Available Options
When signed in to your Plex Account, the Account menu will have the following options:
Account – Modify account settings such as photo, username or email address.
Users – Plex Home management
Announcements – View recent announcements
Get Plex Apps – Leads to the main Plex Downloads page
Help – Leads to this support site
Switch User – Return to the Fast User Switching screen
Sign Out – Signs out of Plex Web App
Being Signed In
Once you're signed in to your Plex Account, you'll see extra resources appear in the Dashboard.
Plex Pass subscribers will also gain access to the following Premium features:
Last modified on: April 9, 2019