Tip!: Setting custom access restrictions when granting access to  content requires an active Plex Pass subscription for the admin Plex Media Server account.
All users can make use of basic server/library access with their family and close, personal friends by choosing which libraries to grant access to them, and for managed users they can use preset restrictions profiles.
Plex Pass subscribers can more finely control the restrictions to content they allow access to. For instance, you can choose whether or not the friend is able to download content from your server. You can also select specific content ratings from your library to limit by as well as content that you've set with a specific Label.
When initially inviting a friend restrictions part of the invite flow.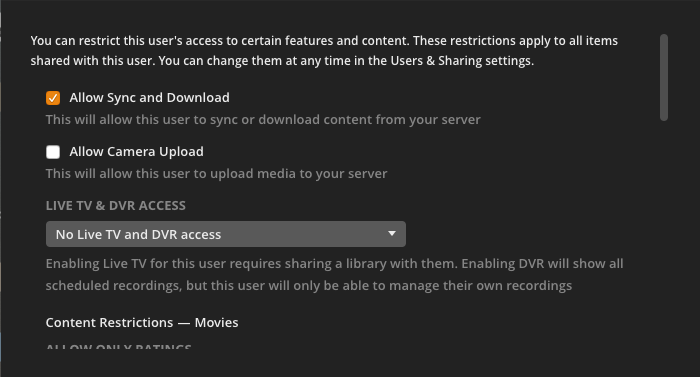 When editing an existing access in Plex Home or Library Access settings you can also edit restrictions. For Managed users the restriction profile must be set to None to edit Rating and Label restrictions on the the library types.
Related Page: Managing Library Access
Setting Restrictions
Allow Download
When enabled, users with Library Access are able to download content to their mobile devices. (Only the server admin can directly download a file to their computer via the Web app)
Warning: Preparing content for Download can require both CPU usage and disk space on your Plex Media Server. Be cautious allowing sync for shared friends.
Related Page: Downloads Overview
Allow access to Live TV and DVR
Members of a Plex Home can be optionally allowed access to tune Live TV  that's been set up or both Live TV and DVR. When enabled, the user will be able to use Live TV in supported apps. If DVR access is also allowed they will only be able to manage their own recordings.
Note: Remember these are available only to members of your Plex Home. Live TV access requires at least Plex Media Server version 1.11.0. DVR Access requires at least Plex Media Server 1.15.4
Related Page: What is Plex Home?
Ratings
Select which content ratings from movie or TV Libraries you wish to only Include or Only Exclude. For instance, if you choose G, PG as the restriction, then only content that is rated either "G" or "PG" will be able to be accessed . If you choose to exclude R ratings then those will be hidden. (aside from content you may share via Label; see below) A Rating can either be allowed or excluded. If added to one it will be removed from the other.
Note that restricting by rating will remove the ability to view that type of library by Folder. This is because folder names cannot be hidden.
The drop-down will auto-populate with ratings from the movie libraries you chose to share as well as a default set of "US" ratings.
Labels
You can create arbitrary Labels when editing library content. When sharing, you can then choose to allow one or more Labels to have content matching those Labels shared. You can also exclude labels.
Note that restricting by Label will remove the ability to view that type of library by Folder. This is because folder names cannot be hidden.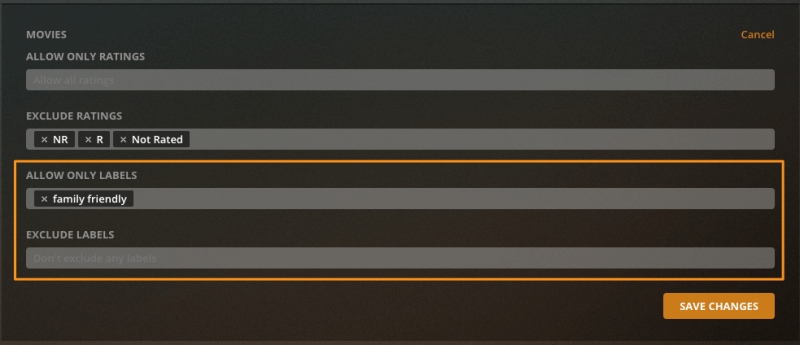 Tip!: If you specify particular ratings, then content matching the chosen Labels will be shared in addition to the ratings. If you have no ratings specified, then only content matching the Labels will be shared.
Note: It is not currently possible to restrict photo libraries by Label.
To apply a Label to content, you can edit the library item and then add the Label under the Sharing tab.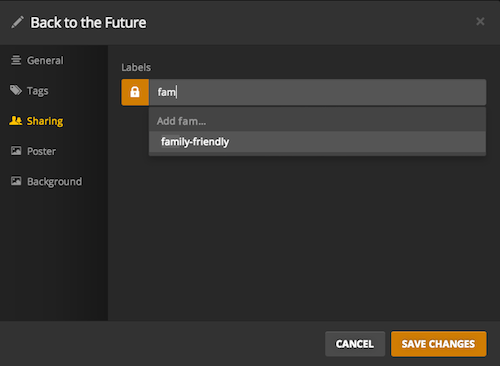 Related Page: Edit Details
Last modified on: June 1, 2023