Tip!: Some Plex Home functionality requires an active Plex Pass subscription for the Home administrator Plex account.
Let's walk through an example of setting up Plex Home for a family and using it. In this case, we'll use the friendly Simpsons family.
Homer has a Plex Media Server running with movie, music, and television libraries with various content in the libraries.
Setup
Being the responsible adult that he is (ha!), Homer Simpson wants to set up a Plex Home for his family. To do this, he'll go to Settings > Users & Sharing in the Plex Web App to start.
Since he's just starting, he doesn't even have a Home set up and he's kind of lonely.

Protecting Himself
To start, Homer wants to make sure that other members of the Home won't be able to switch to his account arbitrarily, so he decides to set a PIN for his own account.
Clicking Set PIN on the right of his member entry allows him to set a PIN that his kids will never be able to guess. D'oh!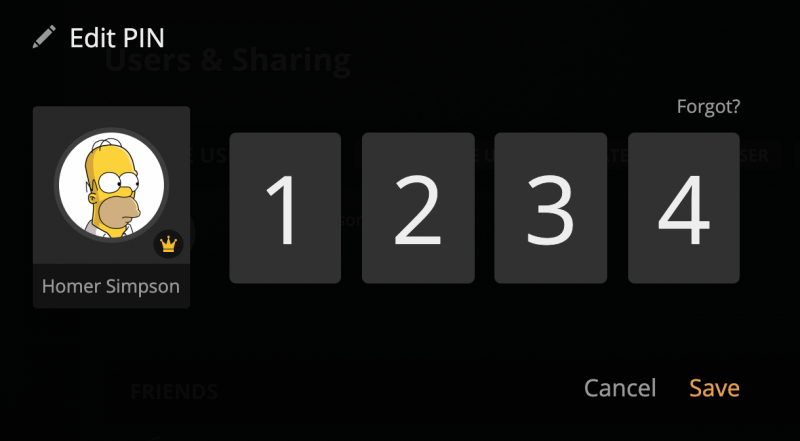 Inviting Marge
With his own PIN set, it's now time for Homer to invite his beloved wife to his Home. He uses the Invite Invite Existing button. Marge is already a Plex user, so she has her own Plex Account.
Tip!: Inviting an existing, regular Plex account to a Plex Home requires an active Plex Pass subscription, as does setting custom sharing restrictions.
Homer puts in Marge's username (he could also have used her email address) to select the account.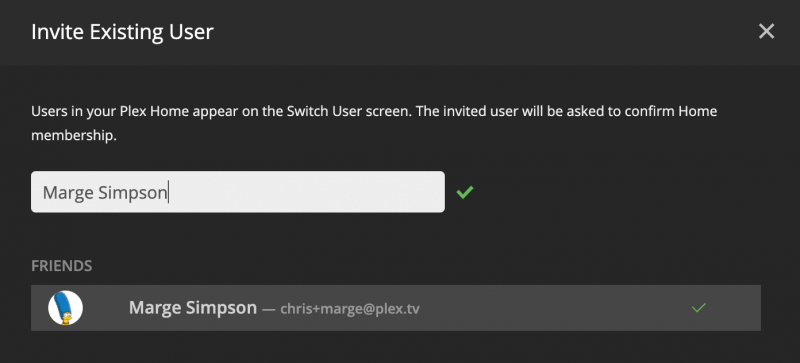 After clicking Continue, Homer can choose which libraries to share with Marge. Since she's his wife, she'll just get All Libraries.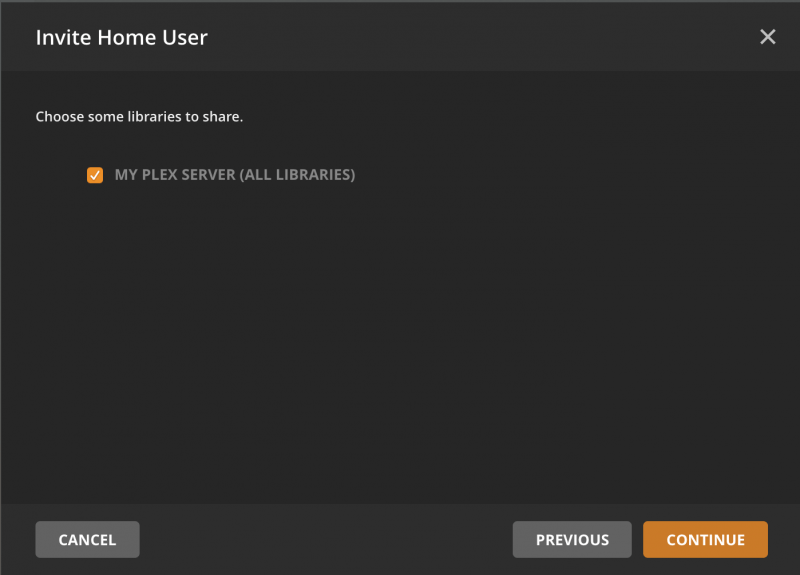 On the Restrictions tab, Marge will be able to sync content from the Plex Media Server and won't be restricted.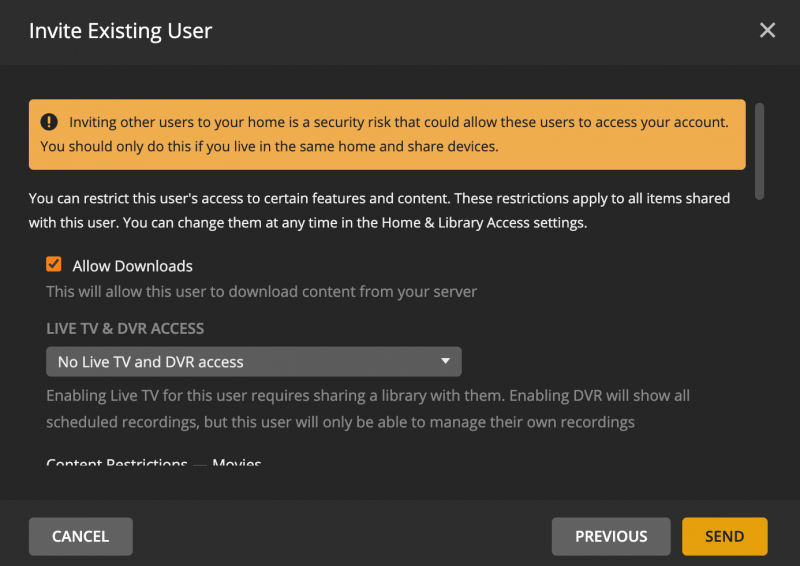 He finishes by clicking Send. Since Marge has her own Plex account, an invitation is sent to her email inviting her to join the Home or she can view the invitation when she views Users & Sharing settings on her account. After accepting the invitation, she's now a member of the Home.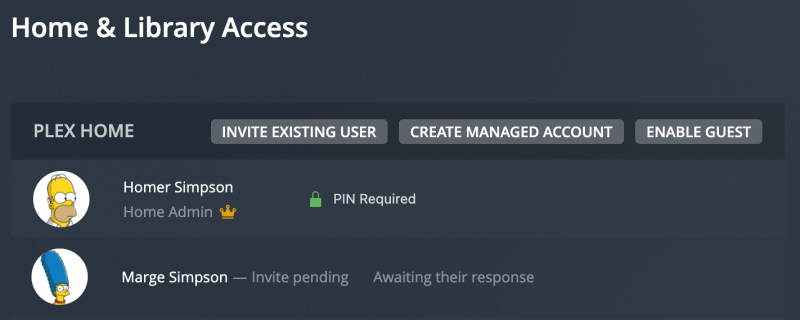 Now, Marge might want a PIN on her account so that the kids can't access it. However, since she has her own Plex Account, she'll need to set her own PIN; Homer can't do that for her.
Adding Lisa
Lisa is the middle child, but she's definitely the more mature and responsible one. Lisa doesn't have her own Plex Account and doesn't need one, either, so Homer chooses to create a new Managed User for her and uses the Teen restriction profile.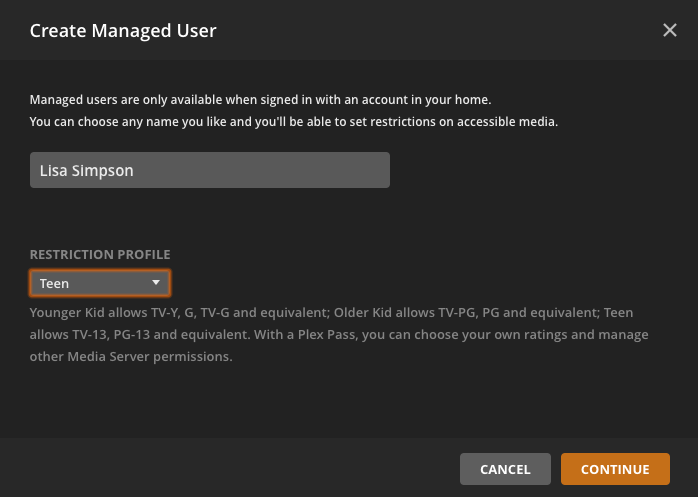 When choosing libraries to share, Homer decides that he doesn't want to explicitly share All Libraries. Instead, he'll individually select the movie and TV libraries. That way, if a new library is added in the future, Lisa won't automatically get access.
Lisa doesn't need to sync content.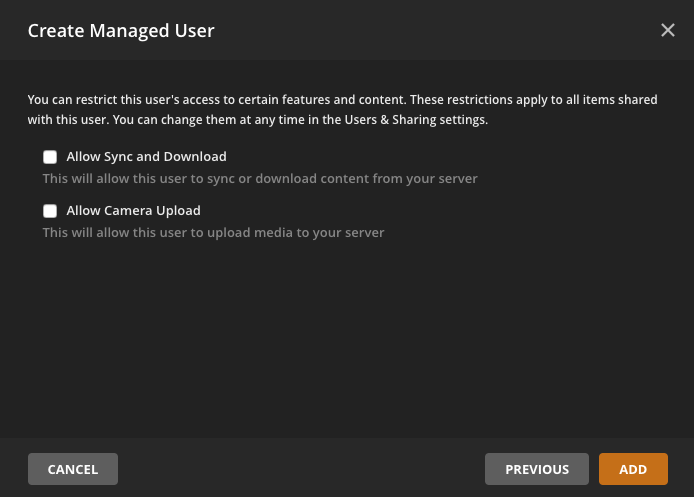 No one wants Bart being able to access their users, so after adding Lisa's managed user, Homer decides to add a PIN to her account, too. He simply needs to click Set PIN for her Home managed user.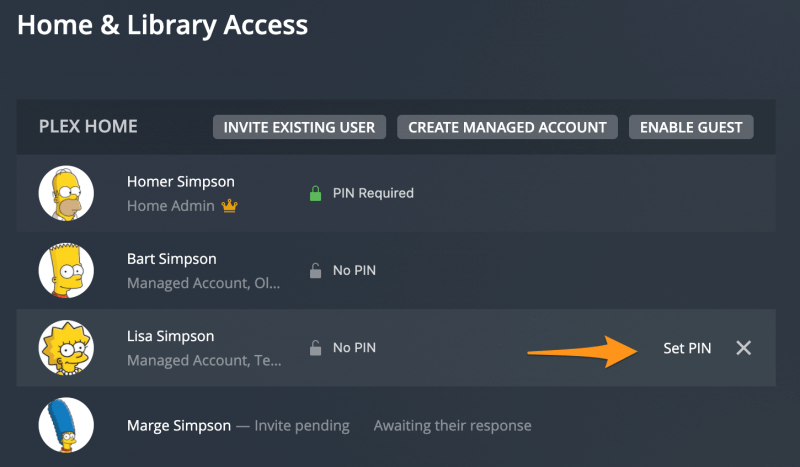 Then set a PIN for her to use.
Adding Bart
Bart may be the oldest of the children, but he's often a troublemaker. He definitely doesn't need his own Plex account, so he'll be a Managed User, too.
When sharing content, Homer decides that Bart only needs access to the movie and TV libraries.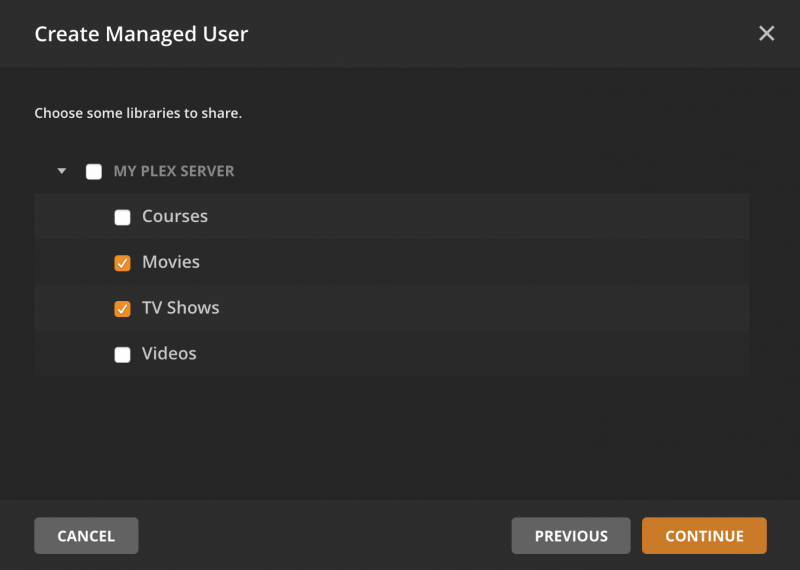 Like Lisa, Bart won't be allowed to sync content and he's definitely only allowed to access certain content ratings. However, Homer does decide later that Bart's allowed to see movies that have had the family-friendly Label applied to them. That way, Homer can specify certain movies with the label rather than giving general access with a profile like Lisa was given.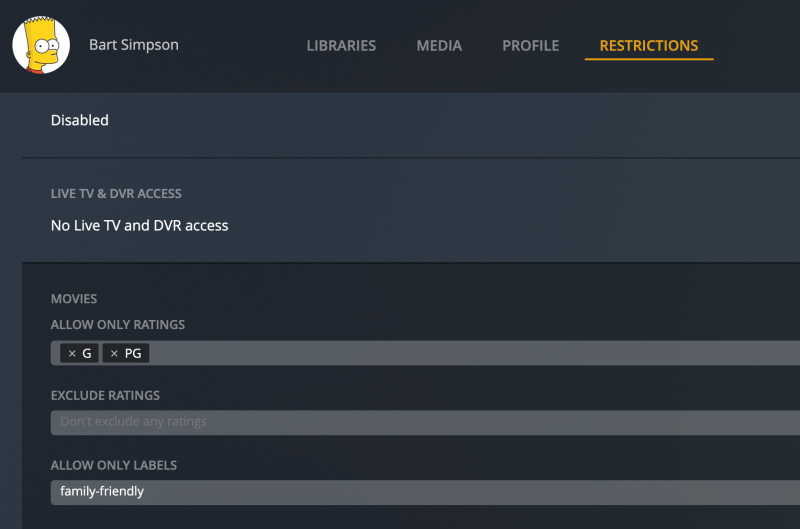 Tip!: Setting custom sharing restrictions for a Plex Home member requires an active Plex Pass subscription.
What About Maggie?
Maggie's a bit too young yet to do things on her own, so she won't be added to the Home. However, in a year or two, Homer can create a new Managed User for her as appropriate.
End Result
So, now that other members have been added to the Home, it's all ready.
Using Plex Home
Now that the Plex Home has been created and the members are added, the Simpsons family can make use of it.
Living Room
In the living room, the family uses Android TV. Once Homer or Marge sign into their Plex account, the family can access the Switch User feature.
Using that, they'll see the window allowing them to select the desired Home member.
If either Bart or Lisa are using their own account and then try to switch to one of the parents' user, they'll be prompted to enter the PIN to unlock the parent account.
Kids' Computers
Both Bart and Lisa use the Plex Web App on their computers. After one of their parents (e.g. a full Plex account) signs into their own account in the browser, the kids will be able to switch members.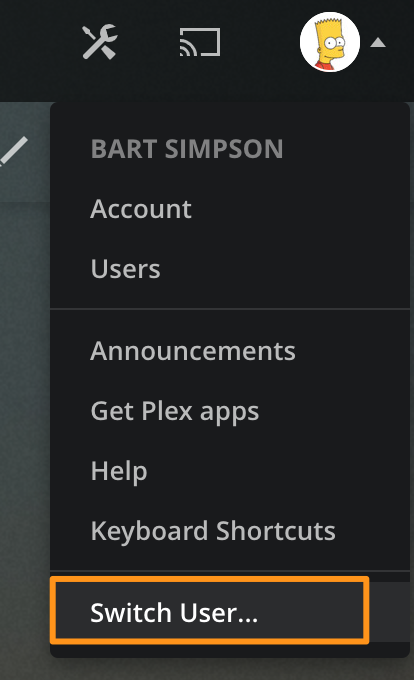 When the Switch User… item is selected, they'll be able to choose which account to use.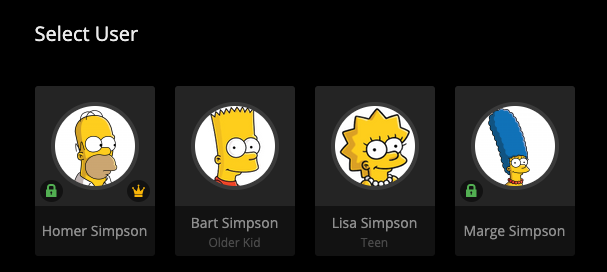 Of course, if they try to access the account for either of their parents, they'll be prompted to enter the PIN to unlock that account. Without the PIN, they can't access the account.
Last modified on: January 18, 2022