Our Plex app for iOS has the ability to download media from your Plex Media Server, so you can make use of it even when offline or when your server is unavailable.
Requirements
Plex Media Server v1.18.3 or newer
Plex for iOS v7.24 or newer
Both the Plex Media Server and the Plex app on iOS must be signed in to a Plex account
The account signed into the app must have a Plex Pass subscription (or be a member of a Plex Home where the Home admin has an active Plex Pass)
Downloading
Initiate a Download
To initiate the download chose the Download icon

on the screen or Download from the context menu. The context menu can be accessed by long-pressing on a library item in the grid or list view, such as music tracks in an album.
For movies and individual episodes, they will start to download immediately. If downloading a whole TV show, you will have options to set subscription rules to choose the number of episodes to include in the Download and if an item should be removed when it no longer meets certain criteria.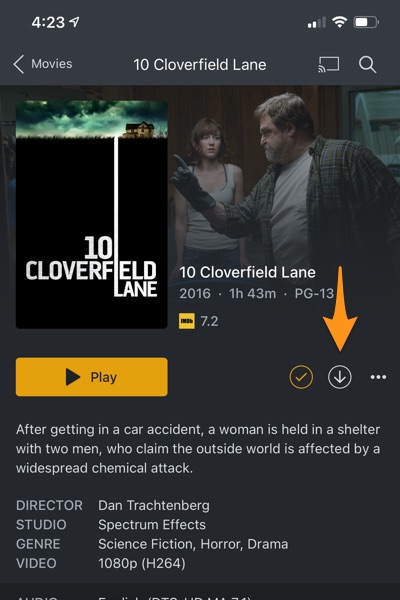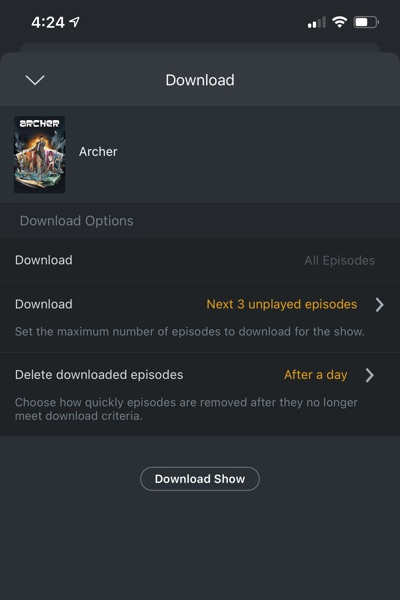 Viewing Downloads
The Downloads item will be listed in the sidebar and can be pinned/unpinned just like any other media source.  This can also be found under the "More" menu at the top of the list under "Offline".  Once pinned to the sidebar, you may rearrange it as needed.
If an item has already been included as part of another Download, a second copy will not be saved onto the device.  So if you initiate a Download for episode 1 of season 1 for a show, then a Download for all of season 1 of that show, and then a Download for that entire show, you will see 3 Downloads, but there will only be 1 copy of each episode saved onto your device.
In this Downloads source, there are 2 views, an Items view which lists all Downloads that have been initiated, and a Library view so you can browse your media just as you would see from a Plex Media Server.  From the list view, you can filter and sort the content to find the Download you want.  This page will also serve as the status page for all Downloads.  Any errors will be shown on here as well.  Tapping on a Download will take you to the appropriate details page.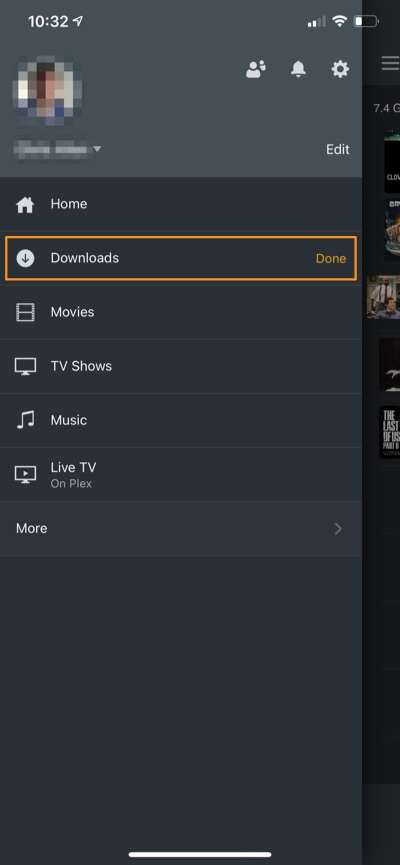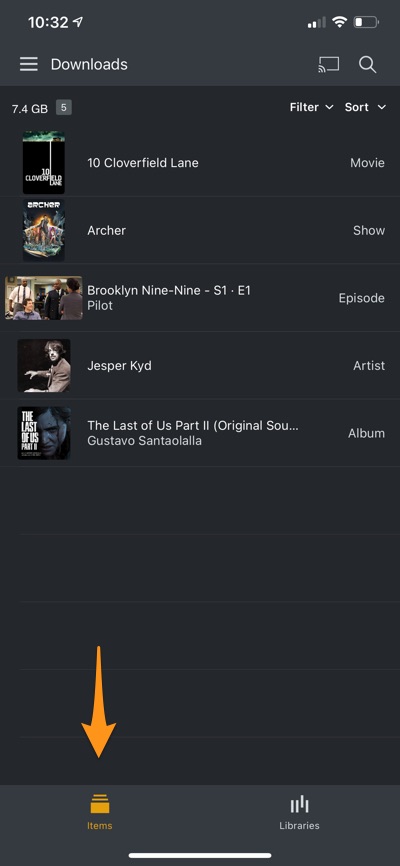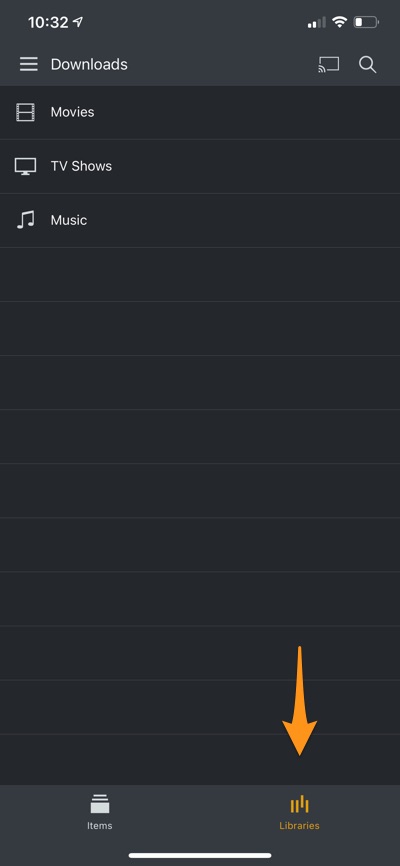 Note: The first time you initiate a download, the app will need to obtain information from that server.  This may take several minutes depending on the amount of content on that server. During this time you will see a fast spinner next to any pending Downloads and the message "Waiting to download".  Once this communication with the server is complete the spinner will change to a status icon with a progress indicator.
Cancel or Delete a download
From the Items view, long-press the Download to open a modal with the option to delete it.  If the download is still in progress, it will cancel that Download.

Tip!: If you delete a Download and an item is still a part of another Download, the file will not be removed until it is no longer part of any Downloads.
Downloads Settings
Download preferences are set on a global basis. You can manage those from within the app settings, which you can get to from the gear icon at the top of the navigation drawer sidebar.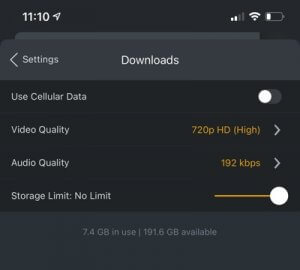 Use Cellular Data
If enabled, the app will use cellular data (if no WiFi connection is available) when performing a download. This option is only visible for devices that have a cellular/mobile connection
Video Quality/Audio Quality
Download Quality for video files and audio files.
Tip!: This quality setting is global and only affects subsequent new downloads or new content added as part of a subscription-style download (3 unwatched episodes, smart playlist etc).
Storage Limit
Set a limit on the amount of local storage space that can be used for downloaded content.
Frequently Asked Questions
Can I fling/cast downloaded content to another Plex app?
Flinging/casting downloaded content is not supported at this time.
Last modified on: October 26, 2022