Once you have a TIDAL subscription linked to your Plex account, you'll be able to access your TIDAL content in supported Plex apps whenever you want.
Related Page: Adding TIDAL Subscriptions to Plex
Related Page: An Intro to TIDAL With Plex
Browse TIDAL content directly
Similar to using TIDAL's own apps, you can access TIDAL content directly in your Plex app. The exact method to do so can vary slightly depending on the Plex app you use.
In Plex Web App, simply choose the TIDAL entry in the left sidebar: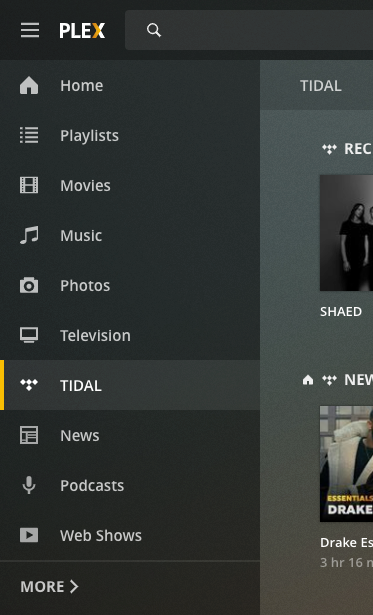 In our mobile apps (Android and iOS):
Choose the Music type in the bottom type bar
Change the source at the top to TIDAL, if it isn't already selected
Related Page: Navigating the Mobile Apps
From there, you'll be able to browse TIDAL content similar to what you'd see in TIDAL's own apps. Enjoy recently played artists, new playlists, new tracks, top albums, and more. You can dive in to an album, pivot to the artist, then look at related artists, and much more.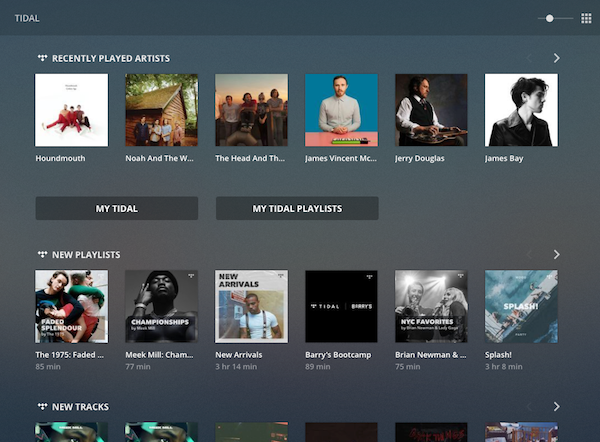 My TIDAL & My TIDAL Playlists
When browsing TIDAL content, you can also choose to Add to My TIDAL for an item (generally using the item's context menu in the apps). Once you've done that, you'll then have quick access to such content from My TIDAL in your Plex apps (or in TIDAL's own apps). If you create a playlist, you can access it under My TIDAL Playlists.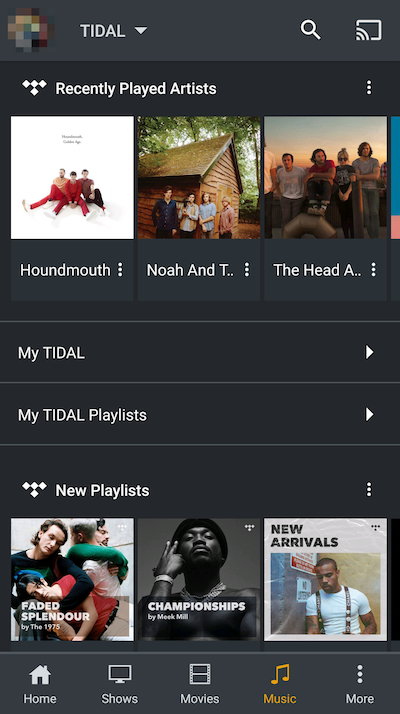 Once you enter "My TIDAL", you can switch whether you're viewing artists, albums, tracks, or videos. If you add an artist to My TIDAL, it will appear under artists, an individual track added will appear under tracks, and so on.
Last modified on: August 6, 2019