Why Use TIDAL With Plex?
Digital music users largely fall into two camps these days: those with their own, personal, curated music collection and others who use a music streaming service. The former group often runs into a dilemma: How do we keep discovering quality new music? How do we avoid losing ourselves, and our curated albums, in an infinite sea of (streaming) music?
To help provide a bridge between those two worlds, we've partnered with TIDAL, who has a vast universe of music, most of it available in high quality FLAC. In addition, we've worked out some really great ways to combine it with your own library.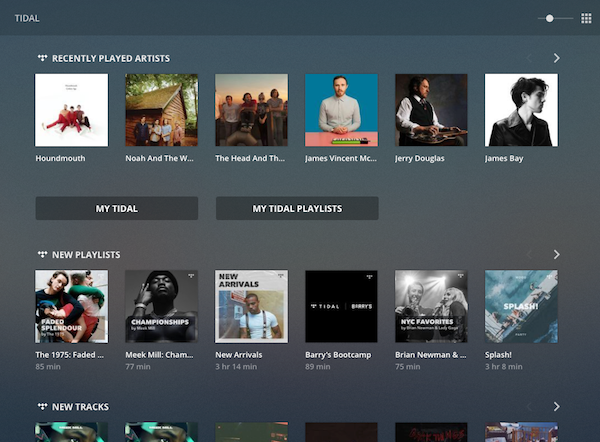 Related Page: Adding TIDAL Subscriptions to Plex
With a TIDAL subscription (whether you already have one or want to start one through us) linked to your Plex account, you'll be able to access TIDAL's tens of millions of songs and videos through your Plex apps whenever you want.
Related Page: Browse TIDAL Content in Plex
For those who already have a music library on their Plex Media Server, you'll see awesome integrations such as albums for an artist that are available on TIDAL, but missing from your library. Furthermore, you can even add content from TIDAL (artists, albums, or individual tracks) so that it appears alongside your own content in your personal library.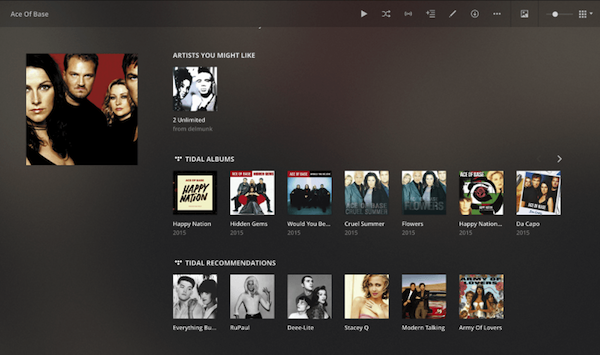 Related Page: Add TIDAL Content to Your Plex Music Library
Related Page: Enhance a Plex Music Library With TIDAL
Plex Apps that Support TIDAL
The following Plex client/player apps support accessing linked TIDAL content:
Amazon Fire TV
Android (mobile)
Android Auto
Android TV
Apple TV
Chromecast
iOS
macOS (desktop)
PlayStation 4 (PlayStation 5 is not supported due to system limitations from Sony)
Plex Media Player
Plexamp
Roku
Smart TVs (LG 4K/UHD [webOS 3.0+], Samsung 2016+ UHD, VIZIO SmartCast)
Sonos*
Windows (desktop)
Xbox One
"Augmenting" an existing Plex music library with TIDAL content requires running Plex Media Server v1.14.0.5470 or newer.
* Neither Firefox on Windows, nor Edge on Windows support playing lossless content from TIDAL HiFi. You can use Chrome on Windows for HiFi support.
** Sonos support available when controlled via Android or iOS mobile apps, which requires an active Plex Pass subscription.
Note: If you disable DRM support in your browser, you may receive a security warning and/or be unable to play TIDAL content.
Hiding the TIDAL Music Source
If you don't wish to see the TIDAL source show up in your apps at all, you can disable that in your Account settings.
Open your Accounts page in the web app
Choose Online Media Sources
Edit the MUSIC source to enable or disable as desired
Frequently Asked Questions
Is TIDAL free to all Plex users?
No. Access to TIDAL requires a subscription to the TIDAL service, which can be purchased through Plex (or elsewhere, though you won't necessarily enjoy some of the Plex benefits if you purchase elsewhere). It is not a free service. You can start a free TIDAL trial to try things out.
How do I start a TIDAL subscription with Plex?
To start a new TIDAL subscription on a free Plex account (or to add one to a Plex account that already has a Plex Pass subscription), you can visit our main TIDAL page. As part of the sign up process, you'll get redirected to the TIDAL site to create an account there and confirm that you want to link/authorize Plex.
Related Page: TIDAL on Plex
Do I need a Plex Pass subscription?
A Plex Pass subscription is not required to use TIDAL.
If you do already have a Plex Pass subscription, then you'll automatically get a discount on the TIDAL subscription for being a Plex Pass subscriber, when signing up through us.
Related Page: Adding TIDAL Subscriptions to Plex
What countries are supported?
TIDAL is currently available in over 50 countries (and growing!). We support the same countries.
Related Page: TIDAL – Where we're available
Do I need a Plex Media Server to use TIDAL?
Nope! If you have a TIDAL subscription linked to your Plex account, you can access TIDAL content in a supported app, regardless of whether you have your own Plex Media Server or not.
However, if you do run your own server and have a music library, then you'll enjoy extra integration with TIDAL such as albums for an artist that are available on TIDAL, but missing from your library.
If I link/add a TIDAL subscription to my account, is it shared with other users?
Having a TIDAL subscription linked to a Plex account is a 1:1 relationship. The Plex account to which it is linked will have access to TIDAL content. Shared accounts (including Plex Home members) will not have access to TIDAL.
If you already have a "Family Premium" or "Family HiFi" TIDAL plan through TIDAL, you can link to a different Plex account for each of the available TIDAL members. (See information on how to link to an existing subscription in our Adding TIDAL Subscriptions to Plex article.)
Related Page: Adding TIDAL Subscriptions to Plex
How many apps can stream from TIDAL at the same time?
As with subscriptions through TIDAL itself, you can use a single device/app to stream from TIDAL at any one time. If you're already streaming some TIDAL music on your Plex for Android mobile app, for instance, you won't be able to also stream TIDAL content on your Apple TV's Plex app at the same time.
Related Page: TIDAL: How many devices can I use simultaneously?
Are TIDAL subscriptions through Plex the same as elsewhere?
A TIDAL subscription through Plex will be identical to one purchased elsewhere (such as through TIDAL itself). However, there are a few TIDAL features that are only available when using official TIDAL apps (or the TIDAL website) and are not available through partners' apps, such as Plex.
While the HiFi plan does have access to lossless quality music in Plex, it does not have access to "master-quality" (MQA) music when played through Plex.
You cannot download TIDAL music to Plex mobile apps for TIDAL's "Offline Mode". (This also applies to our own Mobile Sync feature; it is not possible to sync TIDAL content.)
You cannot purchase music from TIDAL through Plex.
All of these features are available when using supported official TIDAL apps directly, but not when accessing TIDAL through partner apps, such as our Plex apps.
Can I use Mobile Sync with TIDAL content?
The ability to download TIDAL music is not available to partners such as Plex. That means that it is not possible to download/sync TIDAL content using our Mobile Sync feature, sorry.
How do I migrate to TIDAL if I already use [other streaming music service]?
If you already use another streaming music service, then chances are that you have lots of playlists and favorites that you wouldn't want to lose. Luckily, you can use a service like Soundiiz to transfer that music data from your old streaming music service to TIDAL!
Related Page: Soundiiz
Last modified on: August 5, 2021