Once you have a TIDAL subscription linked to your Plex account, you'll be able to access your TIDAL content in supported Plex apps whenever you want.
For users with their own music in Plex, you can enjoy the power of TIDAL added to your very own library. Related artists, tracks, and videos are shown alongside your own content. You can also customize, curate, and build playlists using a mix of your own tracks and those from TIDAL. And you can even "add" TIDAL content to your own library so that it shows up alongside your own, personal content.
Related Page: An Intro to TIDAL With Plex
Related Page: Adding TIDAL Subscriptions to Plex
Manually expand your Plex music library with TIDAL content
When you have your own music library and a TIDAL subscription, you can expand your personal library with content from TIDAL. It shows up right alongside your regular content, you can play it just like your own media, create mixed playlists, etc.
You can choose to add an entire artist, a particular album, or even just a specific track and have it appear in your own library, right next to your own content.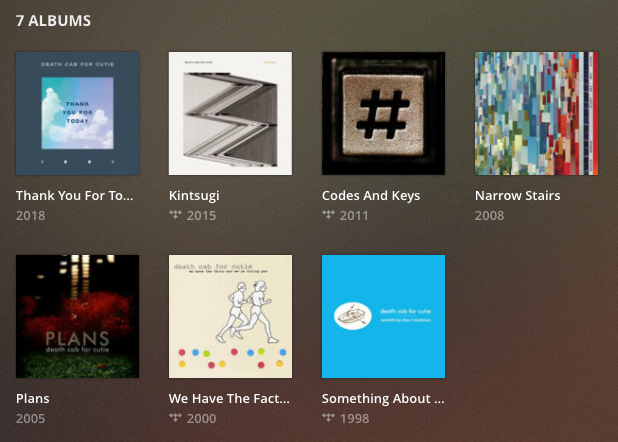 This way, you can easily flesh out your own library with great, new content, all with just a few clicks.
Related Page: Add TIDAL Content to Your Plex Music Library
Automatically enhance your own Plex music library
If you have your own music library in your Plex Media Server, your server will automatically enhance your own library with content from TIDAL. Check out some of the cool ways TIDAL can enhance your own music library!
Related Albums and Tracks for Movies and TV Episodes
On the preplay/details page for a movie or TV episode, you can find related albums (such as soundtracks) and tracks. This uses information from Tunefind and lets you access the corresponding streaming content on TIDAL.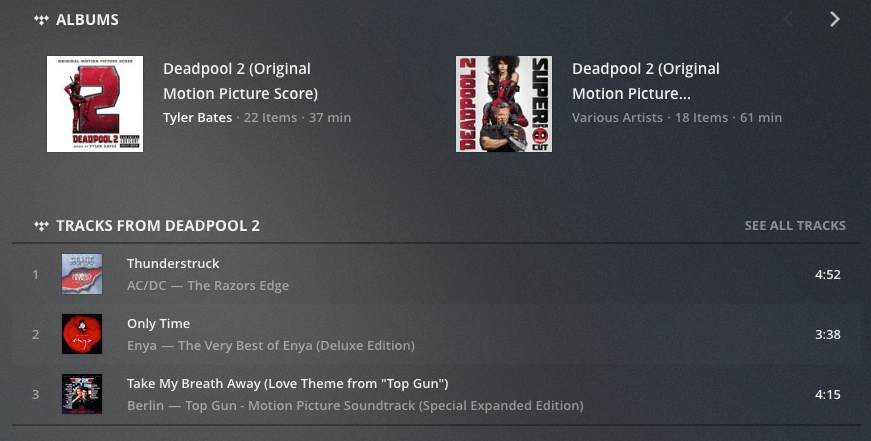 Related Page: Cinema Trailers, Extras, & Related Albums
Artist recommendations
When viewing an artist in your library, we'll recommend other artists you might like which aren't in your library.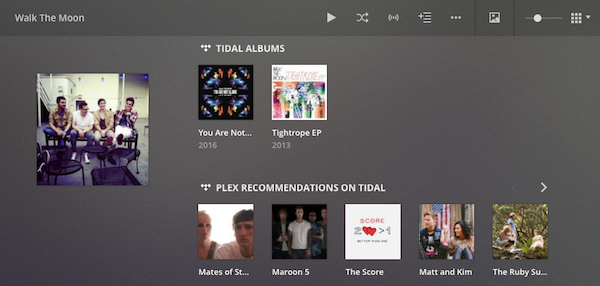 Filling in missing albums
Are you a huge fan of "The Sign" but missing some of Ace of Base's newer work? Plex will show you missing albums for an artist that are available on TIDAL.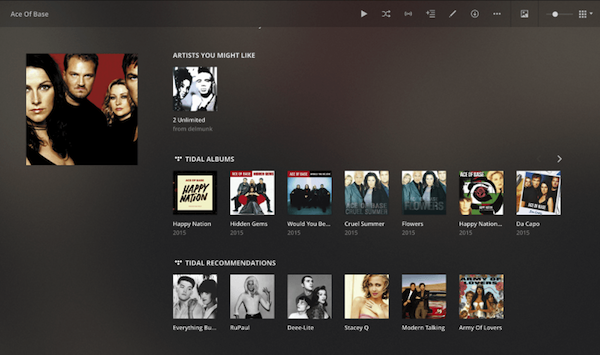 Augmented Artist Radio
You may already be enjoying the awesome Artist Radio feature we added to Plex Media Server and many of our apps not long ago. If you haven't tried it yet, Artist Radio builds a playlist of tracks from your library that captures a musical theme for a given artist. Well, now it's even more awesome, since it will mix in tracks from TIDAL as well!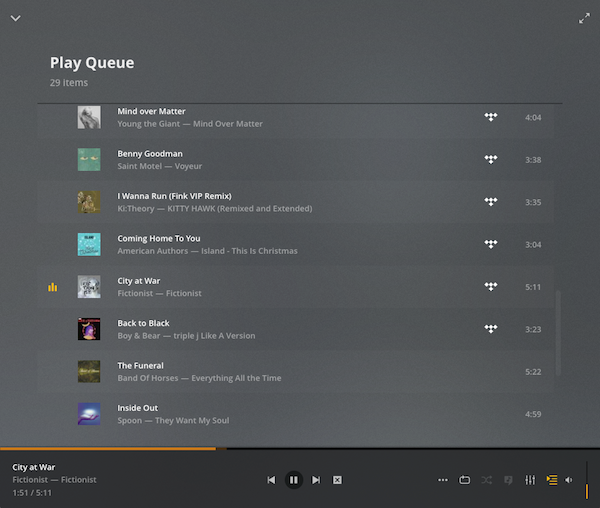 Discovery Radio
Your Plex Media Server knows you, because it knows your music library. By knowing what music you've been listening to, it can build a special playlist just for you, which contains artists that aren't in your library. Discover new musical gems that you never even knew existed!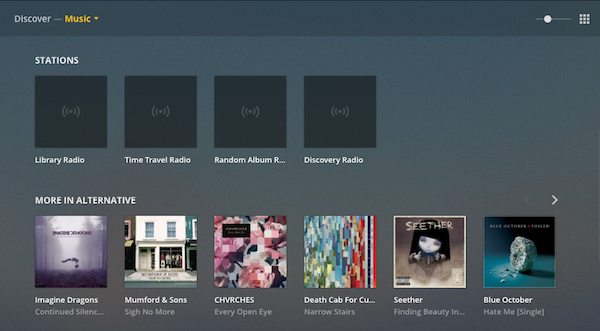 New releases on TIDAL
It can be tough to keep track of all the new releases from artists in your library. Now we've made that easier, by recommending new (TIDAL) albums from artists in your library. Of course, you don't want one recommended if you actually already have that one yourself, so the server is smart enough to skip new albums that you already have.
Music videos
In the mood to watch some music instead of just listen to it? TIDAL offers hundreds of thousands of music and artist videos. Videos for an artist you have in your music library will be available to stream from TIDAL right from that artist's page!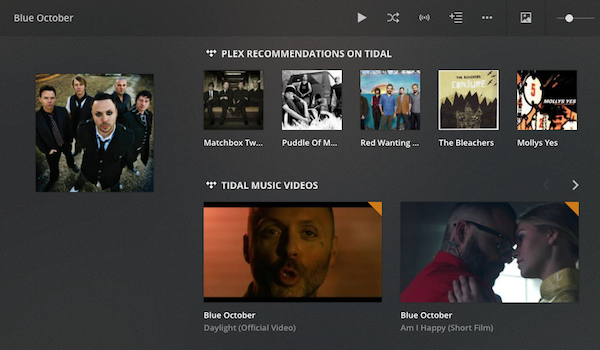 Artist TV
Not only do you get music videos that you can just play directly, but you can also kick off an "artist TV" from the artist page (either in your own library or when browsing TIDAL directly) in compatible apps. If you loved the original idea of MTV (you know, before it all turned into reality TV and they stopped showing actual music videos), you'll love the artist TV experience, which plays music videos back-to-back—not only from the initial artist, but also from other artists with a similar style/vibe.
For instance, if you go visit your Vampire Weekend artist in Apple TV, you can start a "Vampire Weekend TV" session. Think of it kind of like Artist Radio, except it's for music videos! This feature is available on the following Plex apps:
Android (mobile)
Android TV
Apple TV
iOS
macOS (desktop)
PlayStation 4
Plex Media Player
Plex Web App
Xbox One
Smart TVs (LG 4K/UHD [webOS 2.0+], Samsung 2016+ UHD)
Windows (desktop)
more app support coming soon!
Universal playlists
Now you can go wild and create your perfect playlist. For instance, you can start with a music playlist from your own server, then add a few tracks from the music library your friend shares with you, and top it off with awesome tracks you found on TIDAL (maybe through Discovery Radio, right?).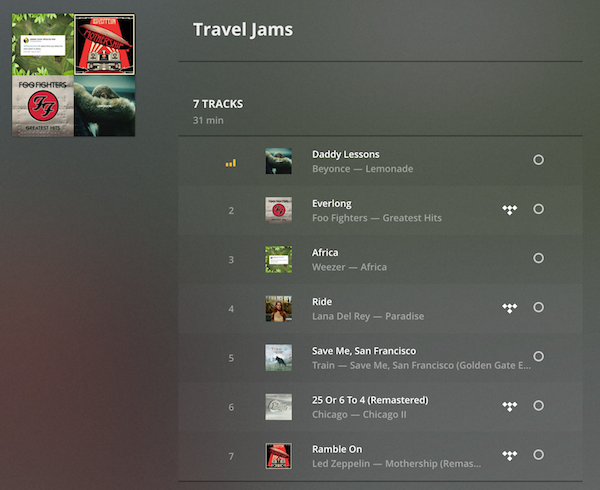 Universal Search
Get results from TIDAL right alongside matches from your own library. Now you can go check out that new artist your friend told you about super quickly (she does have the best taste, after all).
Last modified on: November 20, 2019