You may have a music library of your own music media in Plex, but expanding that library can sometimes be a chore. If you buy a CD and rip the tracks or you purchase a digital album and download the MP3s, you still have to get the files named, copy the files over, place them in the right location, scan your library, etc.
Wouldn't it be great if there were an easier way to expand the content available in your library? With an active TIDAL subscription, you can do just that.
Tip!: To add TIDAL content to a regular music library, you need to be running Plex Media Server v1.15.4.993 or newer.
Note: For the initial release, the ability to add TIDAL content to a library does require either having an active Plex Pass on your account or having your TIDAL subscription billed/managed through us (as opposed to through TIDAL itself). If you have an existing subscription, you can transfer it to be managed through us. This restriction will be removed shortly.
Let's imagine you recently became enamored with the indie band Death Cab for Cutie. The problem is that you only have a few albums by them so far. This definitely doesn't cover their full musical breadth.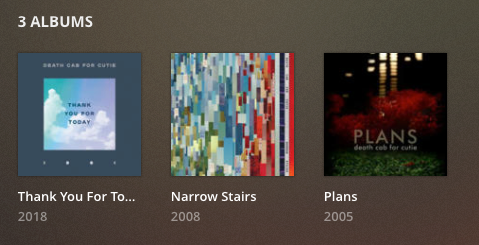 However, with a subscription to TIDAL, you have access to millions of tracks, including lots of other content by this band. So, you can go into the Death Cab for Cutie artist page in TIDAL and then choose to add several albums, so they appear in your regular music library.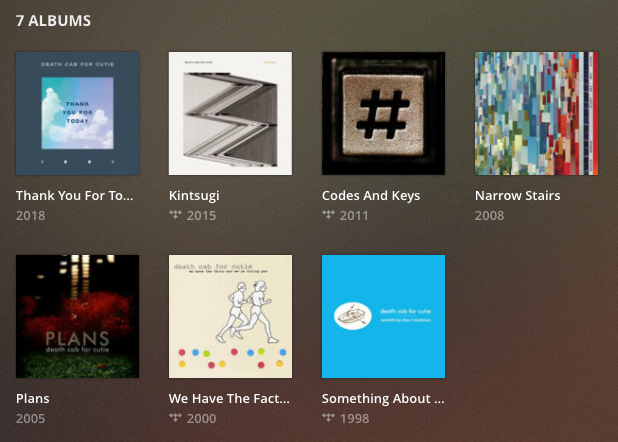 From three to seven albums in just a few clicks! You could just as easily do the same with an entire artist, if you wanted.
How to Add the TIDAL Content
When viewing TIDAL content (whether you're browsing TIDAL directly or looking at something like the TIDAL Albums row on an existing library artist), you can use the normal … context menu to access actions. One of those will be the ability to Add to [library name] (or you'll get a sub-menu, in cases where you have more than one owned music library available to you).
Choose that to add the corresponding content to the selected music library. Your Plex Media Server will grab information and in a few seconds you should see the selected content show up and be available in your library.
You can add:
An individual track
An entire album
An artist, along with all their albums
Note: When adding an artist, it's a "snapshot" of the artist at that point in time. Future albums aren't dynamically included. It also only includes regular "albums" and not EPs or "singles".
Content added this way shows up in your library just like your own personal media content does. You can see the artist entry, browse into an album, play a specific track or shuffle an album, etc.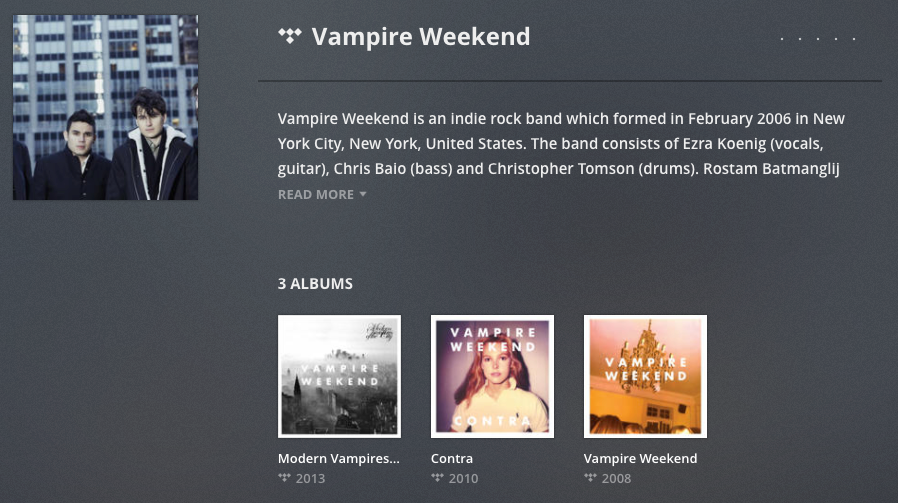 Common Questions
Which apps can view/play added TIDAL content?
The following Plex apps can view and play content from TIDAL which has been added to your library:
Amazon Fire TV
Android (mobile)
Android TV
Apple TV
Chromecast
iOS
macOS (desktop)
PlayStation 4 (PlayStation 5 is not supported due to system limitations from Sony)
Plex Media Player
Plex Web App
Plexamp
Roku
Smart TVs (LG 4K/UHD [webOS 3.0+], Samsung 2016+ UHD, VIZIO SmartCast)
Windows (desktop)
Xbox
Which apps support actually adding TIDAL content to a library?
The following Plex apps support adding content from TIDAL to your library as well as accessing that added content:
Android (mobile)
Android TV
Apple TV
iOS
macOS (desktop)
Plex Web App
Windows (desktop)
more app support coming soon!
What version of Plex Media Server is needed?
You need to be running Plex Media Server v1.15.4.993 or newer in order to be able to add TIDAL content to your normal music library.
Related Page: Downloads Page
Are the files copied to my library?
The actual music files are not copied to your library. Your storage space is not taken up by content you've added; they're streamed from TIDAL whenever you access them, just like normal.
Can I use TIDAL content with Mobile Sync?
No, it is not possible to sync/download content from TIDAL, even if you've "added" it to your library. TIDAL content is not currently licensed to be downloadable by partners such as Plex.
What if my TIDAL subscription expires?
If you no longer have an active TIDAL subscription, you will not be able to access or play TIDAL content. That includes content you've "added" to your library.
Last modified on: April 4, 2021