Plex Web App Settings
To open the Plex Web App settings page.
Click the Settings button at the top right of the Plex Web App screen
In the Settings screen, select the General option within the Web Client section
To reveal Advanced Settings for a category, click Show Advanced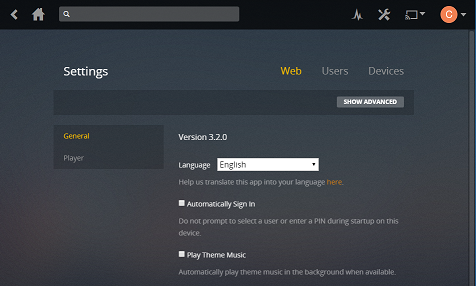 On the left side, you can choose the category of settings you wish to view.
Tip!: Settings here only affect this particular instance of Plex Web App. Settings are stored in the browser's "local storage" and will be lost when you:
clear the browser's cookies and storage
browse using Private, Incognito, or similar modes
use a different browser (whether on the same computer or a different computer)
General
These are general settings for Plex Web App itself.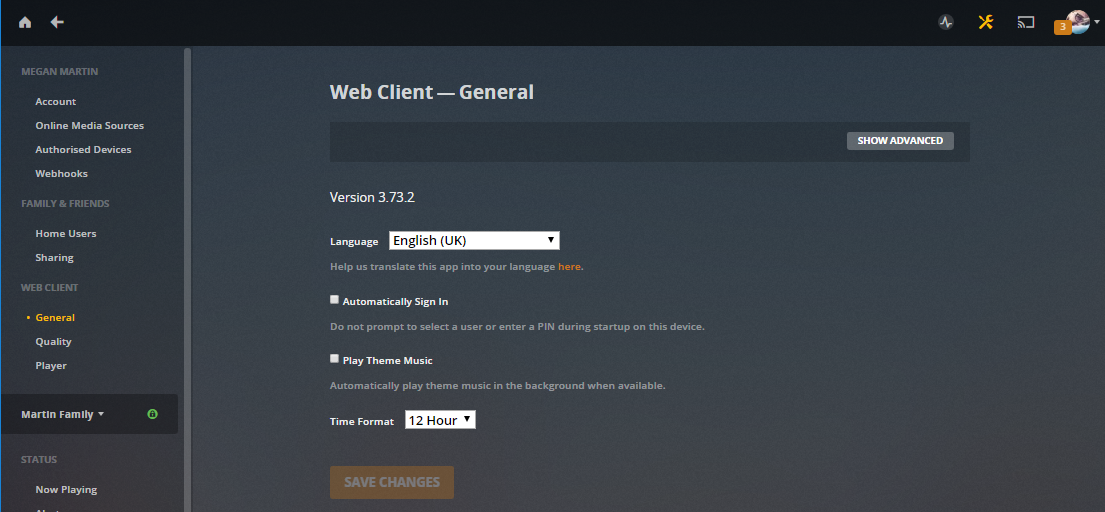 Version
The current version of Plex Web App is displayed here.
Note: This is not the version of your Plex Media Server, but rather the version of the web app itself.
Related Page: General
Language
Choose the language you'd like to use for Plex Web App. If your language isn't available, you can help translate it by clicking the link.
Automatically sign in
If you're a member of a Plex Home, this option will let you skip needing to select a user or enter a PIN when first loading Plex Web App. When enabled, the app will automatically sign into the last used Plex Home member.
Related Page: Plex Home
Play Theme Music
If enabled, theme music will be played when browsing within a television library when available. Theme music is retrieved as part of the metadata for television content by default. Theme music may not be available for every series.
Related Page: TV Theme Music & Submissions
Related Page: Local Media Assets - TV Shows
Advertise as player
Enable or disable the ability for other Plex apps to fling content to this device and control it remotely.
Allow Fallback to Insecure Connections
When enabled, it means that this Plex Web App is allowed to make insecure connections to a Plex Media Server if secure connections fail. Available choices:
Never – (Default) Never fall back to insecure connections without specific action from the user
On same network as server – Allow fallback, but only when Plex Web App and the Plex Media Server are on the same network
Always – Always allow fallback
Quality
Streaming Quality
The streaming quality controls the quality, resolution, and bandwidth of the video when playing content. The lower the setting, the lower the quality of the video, but the less bandwidth it takes. You should choose settings appropriate for your particular situation and setup.
Available streaming qualities and the corresponding resolution of the stream:
Maximum
20 Mbps, 1080p
12 Mbps, 1080p
10 Mbps, 1080p
8 Mbps, 1080p
4 Mbps, 720p
3 Mbps, 720p
2 Mbps, 720p
1.5 Mbps, 480p
.7 Mbps
.3 Mbps
.2 Mbps
Related Page: How do I choose the right Streaming Quality in an app?
Internet Streaming
When streaming content remotely, you'll often want to set a lower quality. The quality you can reliably use is typically limited by either your download bandwidth or the upload bandwidth from the source Plex Media Server.
Home Streaming
This sets the quality to use when streaming content on your local network. In most cases, you can set this to a high value.
Debug (advanced)
The Debug menu is only available when the Show Advanced option is toggled on. This allows you to control logging related to Plex Web App itself.
Note: This does not control logging for your Plex Media Server.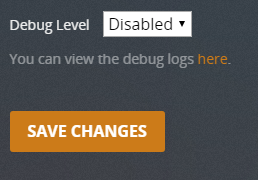 Related Page: Plex Web App Logs
Debug Level
Three levels of debug logging are available:
If you're trying to troubleshoot things or logs from Plex Web App are requested from you, the Enabled level of logging is typically sufficient.
Viewing Logs
After being enabled, the logs for Plex Web App can be accessed via the link available here.
Direct Play
Enabling this will allow the browser to play compatible items without any transcoding. For most browsers, this will mean MP4 files with H.264 video and AAC audio. This setting is enabled by default and most users should leave it enabled.
Direct Stream
When enabled, this allows the Plex Media Server to retain compatible audio or video streams and simply copy them rather than requiring a transcode. This setting is enabled by default and most users should leave it enabled.
Player
Settings here allow you to control the Player in the Plex Web App itself.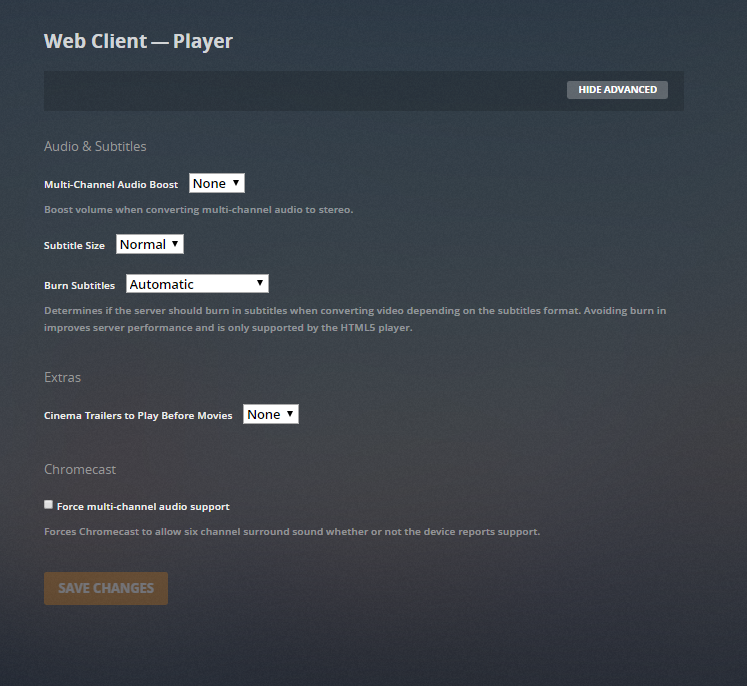 Note: These are not settings for your Plex Media Server. These settings do not affect other Plex apps.
Related Page: Plex Web App Player
Multi-Channel Audio Boost
This allows you to specify that audio should be boosted when the server has to transcode multi-channel audio down to stereo.
Tip!: This only applies when the audio stream for the content is being transcoded from multi-channel to stereo. It is not a universal boost.
Subtitle Size
Choose the size of the subtitles to be displayed on screen when using subtitles. Available sizes:
Tiny
Small
Normal
Large
Huge
Burn Subtitles
Determines if the server should burn in subtitles when converting video depending on the subtitles format. Avoiding burning in subtitles improves server performance and is only supported by the HTML5 player. Available choices:
Automatic – (Default) Burn in subtitles when the subtitle is an image-based format (e.g. VOBSUB, PGS, SUB/IDX, etc.) as well as for complex ASS/SSA subtitles.
Only image formats – Only burn in subtitles when the subtitle is an image-based format (e.g. VOBSUB, PGS, SUB/IDX, etc.)
Always – When used, subtitles will always be burned into the video, regardless of the original source type of the subtitle.
Cinema Trailers to Play Before Movies
Choose how many trailers you would like to have played before the film when you start a movie.
Related Page: Cinema Trailers, Extras, & Related Albums
Force multi-channel audio support
Forces Chromecast to allow six channel surround sound whether or not the device reports support.
Plex Media Server Settings
Choose the Settings button at the top of Plex Web App, select the correct Server from the left menu.

Details for Plex Media Server settings are covered elsewhere.
Related Page: Server Settings
Last modified on: February 28, 2019