Plex Media Server settings related to "Extras". You can access these under Settings > Server > Extras in Plex Web App.
The Cinema Trailers feature allows you to automatically have movie trailers played before the "main feature" when you start playing a movie, which helps provide a more cinema-like experience. These settings allow you to indicate what sort of trailers are chosen.
Settings to control actual playback are available in the Plex apps themselves. Not all apps currently support Cinema Trailers.
Related Page: Plex Web App
Related Page: Cinema Trailers, Extras, & Related Albums
Normal Settings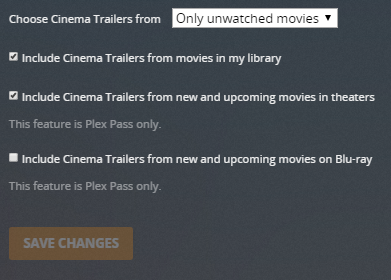 Choose Cinema Trailers from
When a trailer is pulled from your library or a streaming trailer matches a movie you have in your library, this determines whether the pool from which to pull is composed of all movies or only unwatched movies. Possible choices:
All movies
Only unwatched movies
Include Cinema Trailers from movies in my library
When selecting trailers to show, include trailers from content in your own library.
Advanced Settings
Click on the Show Advanced button at the top right of the settings area to toggle display of advanced settings. Be careful when adjusting or using advanced settings.

Cinema Trailers pre-roll video
You can use this to allow you to specify one or more videos to be automatically played after Cinema Trailers and before the "main feature" movie. This can be used to add a "THX Sound" clip, a "please silence your phones" message, or similar.
Tip!: In order to have the "pre-roll" video(s) played, users will need to have the Cinema Trailers feature enabled in their Plex App. The Enable Cinema Trailers advanced library setting must also be enabled for the library.
To specify a pre-roll video, simply enter the full path to the file (e.g. /Users/sarah/Movies/preroll.mp4). You can also specify multiple videos; how you specify them will determine how they behave:
Separate videos with a comma: all specified pre-roll videos will be played sequentially:

/Users/sarah/Movies/preroll-1.mp4,/Users/sarah/Movies/preroll-2.mkv,/Users/sarah/Movies/preroll-3.mp4

Separate videos with a semi-colon: a single pre-roll video will be chosen randomly from the list:

/Users/sarah/Movies/preroll-1.mp4;/Users/sarah/Movies/preroll-2.mkv;/Users/sarah/Movies/preroll-3.mp4
Note: When specifying multiple videos, do not insert spaces after (or before) the separator character.
Last modified on: November 10, 2020