One of the most important features of Plex is the ability to let you access your content whenever you want from wherever you are. That means not only at home, but also at work, at a friend's house, on vacation, etc. To do that, you need to be able to access your Plex Media Server when away from your local network.
In cases where users have trouble setting up their server to be accessible remotely, we can help provide access using our Relay feature. Note that not all of our apps yet support connecting through "Relay".
Tip!: In addition to the app itself needing to support Relay, you need to ensure you're running Plex Media Server version 0.9.15.0 or newer.
What is Relay?
In a nutshell, if your app isn't able to make a direct connection to your Plex Media Server when you're away from home, we can act as sort of a middle man and "relay" the stream from your server to your app. To accomplish this, your Plex Media Server establishes a secure connection to one of our Relay servers. Your app then also connects securely to the same Relay server and accesses the stream from your Plex Media Server. (In technical terms, the content is tunneled through.)
So, your Plex Media Server basically "relays" the media stream through our server so that your app can access it since the app can't connect with your server directly.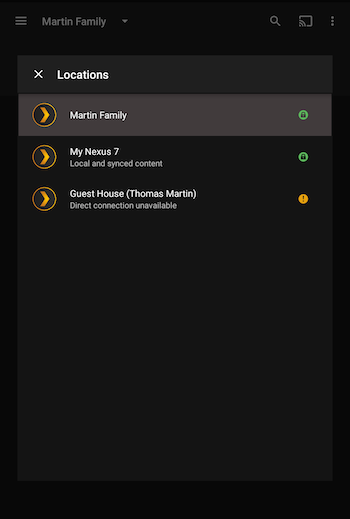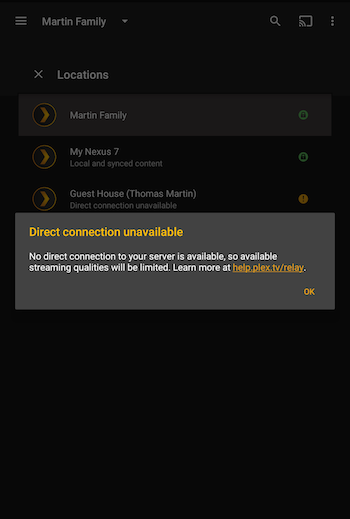 Note: It's important to understand that if you're connecting via "Relay", then it means that your app was unable to make a direct connection to your Plex Media Server. A direct connection will always give you the best experience; see below for information.
Security
Your security and privacy is important to us. When you have enabled secure connections on your Plex Media Server, then your streaming will continue to be secure and encrypted even when using our Relay feature. (When using secure connections, the content is encrypted end-to-end and tunneled through our Relay. The connection is not terminated on our servers and only your Plex Media Server has the certificate.)
Tip!: In order to use Relay, you need to have the Secure connections preference on your server set to either Preferred or Required. Secure connections cannot be disabled.
Related Page: How to Use Secure Server Connections
Related Page: Network
Limitations
When relaying a connection through us, there are limitations for the streaming qualities you can use:
Free users are limited to 1 Mbps maximum for streams
Plex Pass subscribers are limited to 2 Mbps maximum for streams
If the content you're trying to stream has a higher bitrate, then your Plex Media Server will need to transcode the content down to fit the limitation.
Tip!: If you wish to stream at a higher quality when away from home, you'll need to successfully set up remote access on your server so that your app can connect with it directly.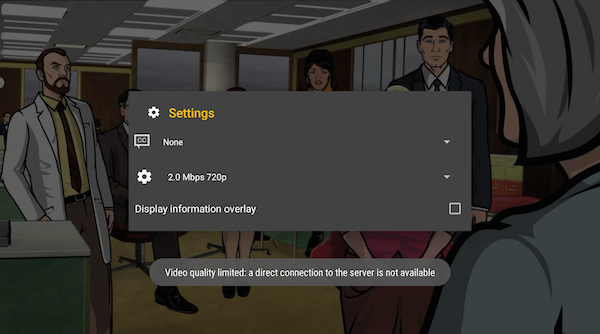 How to get a better experience
Our Relay feature is an awesome way to let you remotely stream your content. However, if you want the very best experience, then you'll want to ensure that your Plex Media Server can be accessed directly by your apps when away from home. That will let you stream at higher quality and give you a faster connection between the app and server.
Tip!: Successfully enable Remote Access on your server to get the best experience.
Enable Remote Access
Successfully enabling "Remote Access" for your Plex Media Server means that your apps will be able to connect with your server directly when away from home. That direct connection will allow the apps to stream at higher qualities and the connection will be more efficient.
You can find the Remote Access area under Settings > Server > Remote Access in the Plex Web App. In many cases, everything will work automatically. For some people, it may require doing something such as manually forwarding a port on your router.
Related Page: Remote Access
Having Trouble Enabling Remote Access?
If you experience trouble with getting Remote Access enabled, we have some detailed troubleshooting information available to help narrow down what the particular issue is and then fix it.
The troubleshooting can help you identify and fix possible problems such as being in a "Double NAT" situation or using Jumbo Frames on your computer.
Our support forums are also an excellent resource for assistance. If you're having trouble getting Remote Access to work and post in our forums, be sure to include details such as the specific information you gathered while going through the troubleshooting article.
Related Page: Troubleshooting Remote Access
Related Page: Plex Forums
Last modified on: September 1, 2021