As of Plex Media Server version 1.22.3  when you create a new TV library it will default to the new Plex TV Series agent. Existing TV libraries will remain unchanged but you can upgrade them in a few clicks.
Migrating an existing library:
Upgrading a library is super easy, just select the ellipsis menu icon for your library in the sidebar and select Manage Library and Upgrade matching.
At this point a scan will be triggered looking for new items but your existing shows will not be changed until you a.) run a Refresh Metadata (per show or on the entire library) or, b.) new episodes are added to an existing show.
IMPORTANT: Migrating an existing library will make visible changes to much of the metadata on existing items once their metadata is refreshed (locked fields will not be changed). You can choose to revert back to the prior agent at any time, just remember you'll need to Refresh Metadata again after the change.

What is new?
Matching and new Fix Match Search
Matching accuracy will improve for most people with this new agent so you'll have to do less Fix Matching. If however you do end up in the Fix Match screen you should be able to find what you're looking for much easier now as we now show a poster and summary for the show matches (like we do with movies).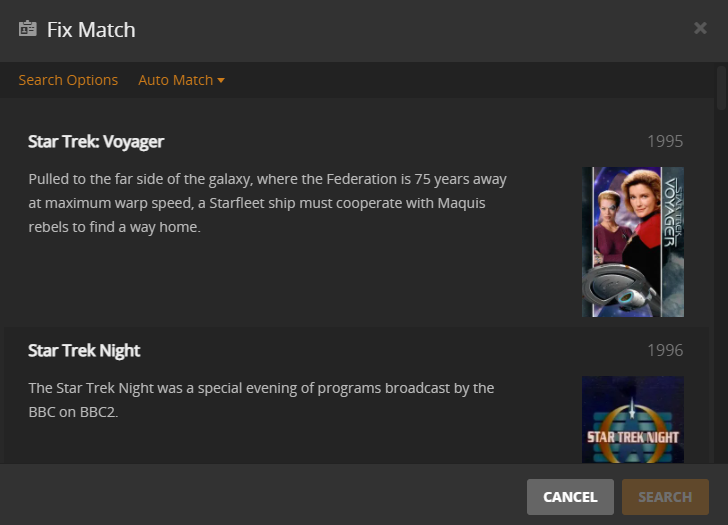 If the results you get back don't have what you're looking for you can still search manaully using title and year by hitting the "Search Options" link. If you really know what you want you can use external ids from TheTVDB, The Movie Database or IMDB to get a match directly by entering a prefix and the id into the title field, e.g.)
tmdb-1855
tvdb-74550
imdb-tt0112178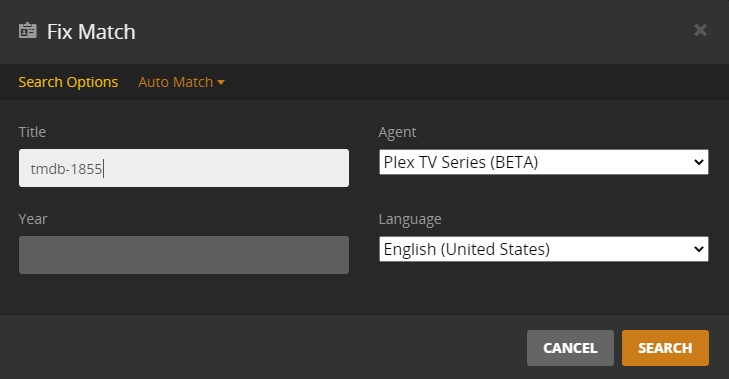 Plex Pass Extras
If you have a Plex Pass subscription you'll be able to automatically get trailers and extras for shows. Just note that not all Shows have extras available. Just ensure you have the "Find Extras" option enabled in the Advanced section in the TV library's settings.
Local Extras
This is something that we know has been requested for a while so it's now officially supported in Plex Media Server 1.22.0 with the Beta TV agent with more extended support rolling out to clients in future updates.
Certain clients do not yet fully support TV extras, but keep an eye out on our forum as our support pages will be updated once official support is available.
Currently the only clients that fully support extras at all levels are the mobile iOS and Android apps. Other apps like the Web client, Android TV, Apple TV and Roku have limited support while the modern TV interface for Smart TVs does not yet have support for any local TV extras.
Show and Season Extras:
Follow the same guidelines as per local movie extras: Local Files for Trailers and Extras | Plex Support 105
Example
/TV Shows
/Game of Thrones
  An Interview With Emilia Clarke-interview.mkv
  /Trailers
    Trailer 1.mkv
    Trailer 2.mkv
  /Featurettes
    Special Effects.mkv
  /Season 01
    /Behind The Scenes
      A look at season 1.mkv
    Season 1 Deleted Scenes-deleted.mkv
Episode Extras:
Episode extras must be named exactly like the episode it's accompanying. Use the suffixes outlined in the "Inline extras" part of Local Files for Trailers and Extras | Plex Support 105.
Examples
Game of Thrones - S01E01 - Winter is Coming.mkv
Game of Thrones - S01E01 - Winter is Coming-deleted.mkv
Game of Thrones - S01E01 - Winter is Coming-featurette.mkv
You can add multiple episode extras of the same type by adding a number index to the end of the suffix:
e.g.
Game of Thrones - S01E01 - Winter is Coming-deleted1.mkv
Game of Thrones - S01E01 - Winter is Coming-deleted2.mkv
Game of Thrones - S01E01 - Winter is Coming-deleted3.mkv
Last modified on: April 22, 2021