Leaving a Plex Home is easy to do. However, make sure you really want to do so as there could be permanent consequences.
To administer the Plex Home, go to Settings > Plex Home  in the Plex Web App.
Related Page: Plex Web App
Related Page: My Home
On the Plex Home settings, hover on the row with your account and click on the X  to the far right to leave the Plex Home.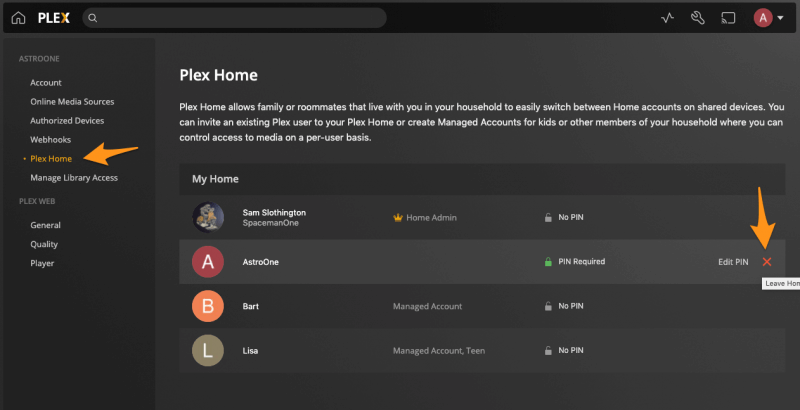 Note: Leaving a Plex Home will not remove any PIN you have set on your account. If you wish to remove a PIN, you need to do that separately.
Related Page: I forgot my Plex Account PIN; how can I reset it? How can I change my PIN?
Plex Home Admin
The admin of a Plex Home can't technically "leave" the Home in the sense that the Home will still continue. Instead, if the admin leaves, it will destroy the Plex Home entirely. When an admin leaves a Plex Home:
Managed Users will be immediately destroyed
Regular Plex accounts will be removed from the Home
Warning!: Leaving the Plex Home as the admin will permanently destroy that Home and will immediately (and permanently) delete any existing Managed Users.
When you click the X button to leave home, you'll be prompted to confirm the decision.
Note: If you've granted library access to a regular Plex account that was a member of the Home, they will still have that library access
Non-Admin Member
If a regular, full Plex account (not a Managed User) is a member of a Plex Home, they can choose to leave the Home. If they leave and are not the last (non-admin) member of the Home, then the Home will still exist even after they're left.
When clicking the X button to leave home, a prompt will appear to confirm the decision.
Tip!: Even after leaving a Plex Home, you will still remain Friends with the admin and existing library access will remain.
Last modified on: March 16, 2022