I'm required to sign in?
The short answer is: "No."
The longer answer is: "No, it's not required, but you really should sign in because it only helps you."
The Plex for iOS app will automatically try to discover available Plex Media Servers on the same local network (subnet). While automatic discovery often works well, it's not foolproof, as many things can interfere with it.
If you really don't want to sign in, you can skip doing so on the initial First Run walkthrough by using the ? button.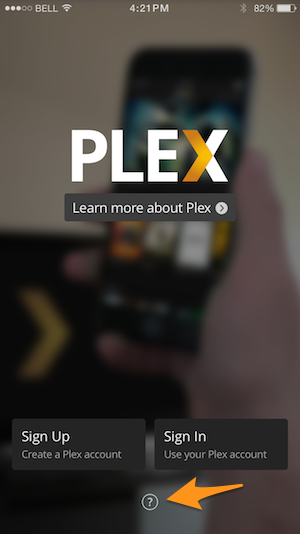 But skipping over that means that you're sacrificing functionality.
Why should I sign in?
Signing in with a Plex account can help your app find and connect to your Plex Media Server without having to worry about all kinds of complicated network things. As just one example, it's useful when your iOS app and Plex Media Server are on different subnets, which is a situation in which automatic discovery can fail.
Signing in to your Plex account has multiple benefits, including:
You need to sign into both the iOS app itself as well as your Plex Media Server.
Related Page: Sign in to Your Plex Account
Related Page: Why can't the Plex app find or connect to my Plex Media Server?
Signing in on iOS
You can sign up for a new account or sign into an existing account when you run the app for the first time.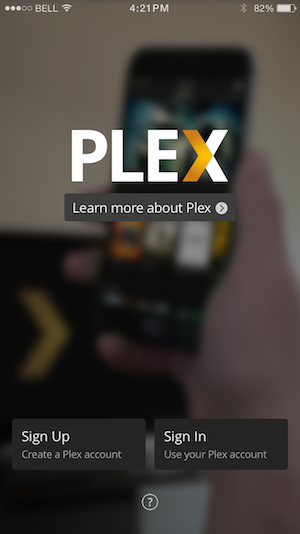 If you're already running the app, you can sign in under Settings > Account.
Sign your Plex Media Server in to Plex
Signing into your Plex account on the Plex Media Server itself allows the server to provide the correct connection information. When you then sign into your account in the iOS app, it can grab that connection information to use so that the app can find and connect with your server.
You'll sign into your account under Settings > Server > General in Plex Web App.
Related Page: Opening Plex Web App
Related Page: Sign in to Your Plex Account
Last modified on: March 20, 2019