An Introduction
Plex gives you one place to find and access all the media that matters to you. From personal media on your own server, to free and on-demand Movies & Shows or live TV, to streaming music, you can enjoy it all in one app, on any device.
And, it's really simple to start using…
First, if you are streaming content provided by us or one of our partners (Movies & Shows, live TV, TIDAL music), then you are good to go as soon as you have an account, just install an app on your phone, Smart TV, computer, or simply open up our web app on your browser!
If you are looking to set up your own personal media server to house your own video or music files, there are a few more (simple!) steps to get up and running.
How it works for your own personal content:
Install and run the Plex Media Server on a computer (or compatible NAS device or NVIDIA SHIELD) where all your media is stored and managed in movie, TV show, home video, music, and photo libraries.
Add media libraries by type of content and let Plex do the rest—cataloging, adding artwork and info—it's all automatic.
Install and open the Plex app on virtually any device—smartphone, tablet, smart TV, streaming device, game console, personal computer, or any browser.
Wherever you are, press play, sit back, and enjoy your media as it streams from the Plex Media Server to your device.
For more information about Plex features, see this page.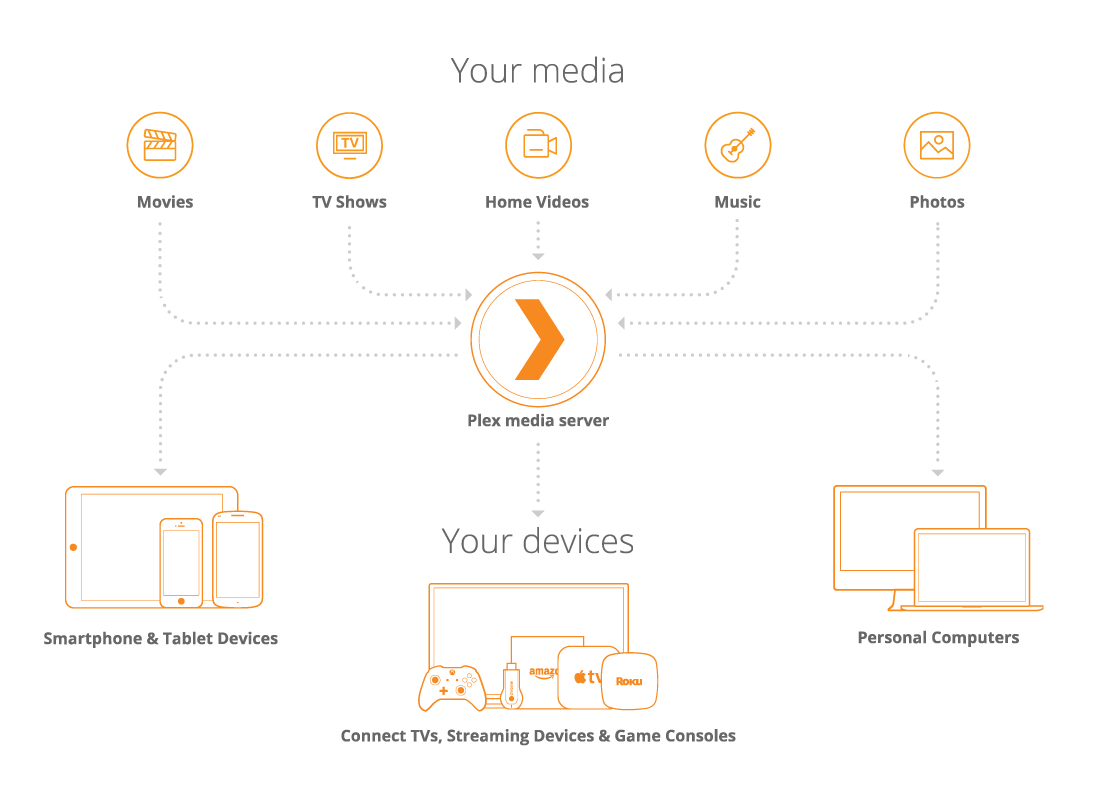 Once you are up and running, you can:
Share home movies from your Chicago Mac with Grandma on her Roku in France.
Stream music from your PC in London to your iPad while abroad in Tenerife.
See photos on a SoHo LG Smart TV while they are stored in your Brooklyn brownstone.
Set up your own DVR and record your favorite shows and games from over-the-air signal and watch anywhere!
Link your TIDAL account and integrate your own personal library with TIDAL's 60 million tracks.
What Media and Devices Work?
Plex supports these media file types
Plex Media Server supports all common media files:
Movies, TV Shows, and Home Video: MP4, MKV, AVI, MOV, DIVX, and more
Music: MP3, M4A, FLAC, WMA, and more
Photos: JPG, PNG, RAW, TBN, and more
Plex Media Server compatibility
Plex Media Server is supported on computers running all the major operating systems as well as NAS devices:
Windows
macOS
Linux
NVIDIA SHIELD
Many popular NAS devices such as QNAP, Synology, Netgear, Drobo, and more
Related Page: System Requirements
Related Page: NVIDIA SHIELD
Related Page: NAS Devices
Use Plex on these devices
Plex apps work with the all the market leading devices and brands:
Browsers: Chrome, Edge, Firefox, and Safari
Mobile Apps: Android, iOS
Tablets: Android and iPadOS
Desktop/Laptop computers: macOS, Windows, Linux
Smart TVs: LG, Samsung, Hisense, VIZIO, and Roku TV
Streaming Devices:

Amazon Alexa
Amazon Fire TV
Android TV
Apple TV
Chromecast
Portal from Facebook
Roku
Sonos

Gaming Consoles: PlayStation and Xbox
In addition to running the Plex web app in a browser, desktop computer users can also run dedicated player apps. This is aimed at users wanting to use Plex in their HTPCs or to have a "home theater" type experience. It provides advanced audio and video playback capabilities to give you the best experience possible.
Related Page: Player Apps and Platforms
What else can Plex help you do?
There is so much more you can do with Plex. From tracking what you watch to remote access, organizing and tracking all your media, optimizing media for devices or bandwidth, and protecting your privacy, Plex is a powerful and rich media platform for the home.
Or, how about watching thousands of free, on-demand Movies & Shows streaming service or over 100 channels of live TV. You can even access over 60 million streaming music tracks and videos, provided by TIDAL! (If you have a TIDAL subscription.)
Find more feature information on our website.
Related Page: plex.tv
With a Plex Pass subscription, you can do even more. First off, there are loads of premium features—set up a DVR to watch and record over-the-air content with a tuner & antenna, download media to your mobile device for offline access, and get early access and discounts on various things. You also get audio enhancements, parental controls, and much more. Learn more about Plex Pass.
Related Page: Plex Pass Subscriptions
Last modified on: November 30, 2022