The Plex Web App that comes with your Plex Media Server is a dual-purpose web application: it serves both as a way to manage your server and content as well as providing a way to access and view or listen to your content. This powerful web app runs in a modern web browser and allows you to manage or access your content from any computer.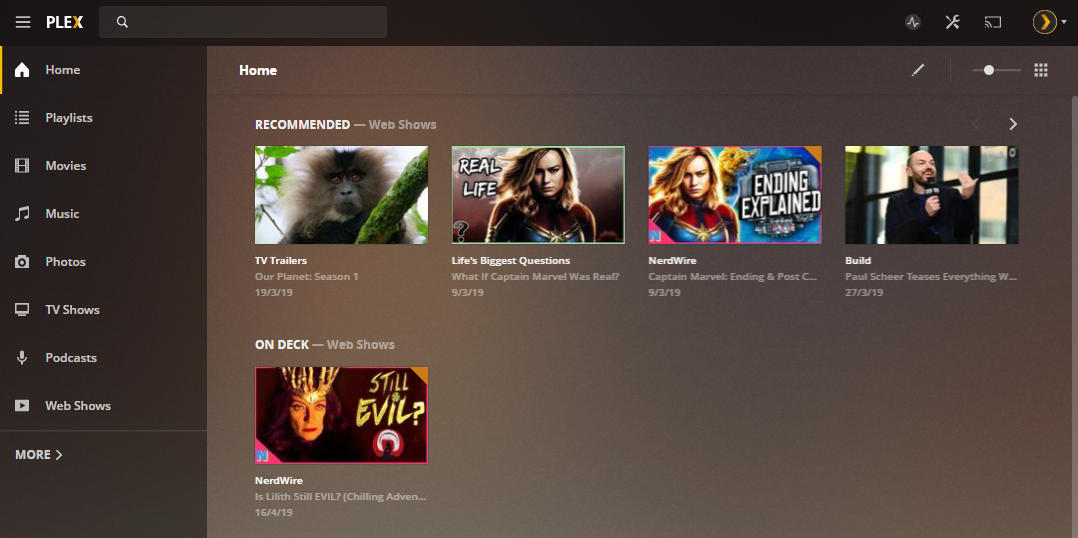 Related Page: Opening Plex Web App
Supported Browsers
Plex Web App is available in the most recent release versions of the following browsers:
Home
Your Home screen is your starting point for Plex, whether it's finding recently added content or letting you choose a particular type of media to view. You can view rows such as On Deck, Recently Added Movies, and more.
The home screen can be customized with the content you want, in the order you want.
Related Page: Customizing Plex Web
Manage Libraries
Manage all aspects of your libraries from one or more Plex Media Servers.
Related Page: Libraries
Manage Media Items
Media items like individual shows can be edited or customized to:
Fix incorrectly matched shows
Customize an item for posters and other graphic elements, or edit data like plot, actors, etc.
Create Collections to gather similar media together
Related Page: Working with Your Media
Manage Plex Media Server Settings
Plex Web App provides a central point to manage settings for any Plex Media Server owned by your account.
Related Page: Server Settings
Plex Player
Plex Web App has an integrated and fully featured Plex player so that you can watch and listen to your content.
Related Page: Plex Web App Player
Last modified on: October 26, 2022