Plex Web App lets you manage both the server and your media libraries in a browser window from any device on your network. It's fast, attractive, and makes managing your media fun. Because it runs in a browser, it will look the same on any platform giving you a consistent experience. Here's an overview of its interface.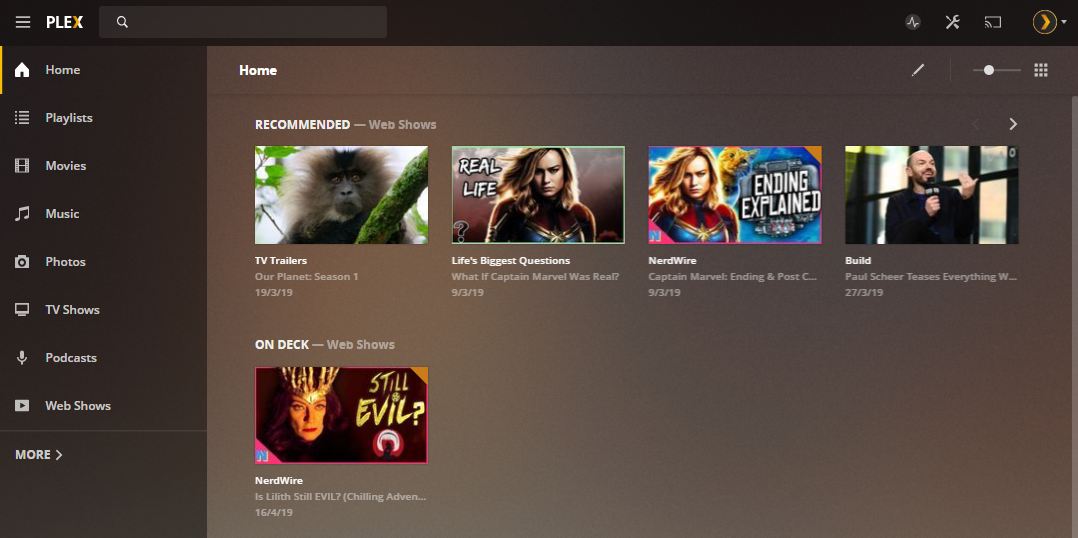 Signing in to Plex Web App
Signing in to your Plex account in your apps (including Plex Web App) provides many features and benefits. For instance, it lets you access servers that are shared with you, helps provide information to assist your app with connecting to a server, and allows you to make secure connections to servers, among many other benefits. You can sign in to your Plex account using the Account drop-down at the top right of the Plex Web App.
In most cases, you'll either already be signed in or you'll be prompted to sign in before you can access Plex Web App.
Note: Signing Plex Web App into your Plex Account does not sign the Plex Media Server in to the account. That must be done from Settings tab.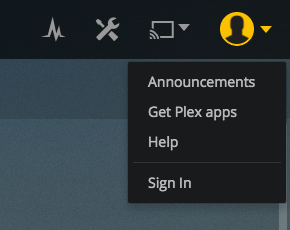 Related Page: Sign in to Your Plex Account
Home Screen
Plex Web App initially opens to the home screen. Your Home screen is your starting point for Plex, whether it's finding recently added content or letting you choose a particular type of media to view.
Recommended Content
From the Home screen, you can view recommendations for content to which you have access to.
Some types of content you might see on your Home screen:
Continue Watching: If you recently left off in the middle of a movie or TV episode, you can quickly resume from where you were.
On Deck: On Deck shows you television content that you're watching. If you have a whole season of content and finish episode 3, On Deck will then have episode 4 waiting for you. If you stop watching in the middle of an episode, it will be available for you to pick up right where you left off.
Recently Added: The Recently Added areas let you see what content was added for different media types and provides quick access to it. You can see recent additions for movies, music, photos, home videos, or television. Television content will even be intelligently stacked for you so that if you add an entire season of content, you'll just get a single "season" entry displayed rather than a dozen individual episode entries.
Customizing the Home Screen
You can customize the home screen to choose which content is visible and most easily accessible for you. You can both reorder the rows as well as disable a specific row so it doesn't show up at all. You can find more information in the dedicated customization article.
Related Page: Customizing Plex Web
Navigation Sidebar
While the Home screen is often great for an overview of things or quickly getting back to something, sometimes you just want to look at something specific. To do so, you'll use the navigation sidebar to select the desired source. Access the sidebar from the left edge of the screen, almost anywhere in the app. The sidebar can be expanded or collapsed at any time by pressing the
button.
Customizing the Navigation Sidebar
You can customize which sources are visible on the sidebar and their order. You can find more information in the dedicated customization article.
Related Page: Customizing Plex Web
Manage Libraries
If you are the owner of a source listed in the navigation sidebar, you will have several additional management options available using the ... . From here, you can access:
Unpin
Reorder
Scan Library Files
Share
Manage Library:

Edit
Refresh All Metadata
Empty Trash
Analyze
Delete
When you choose a particular source to view, you'll have different view options available depending on the type of source.
Recommended
Library
Collections (if you have any Collections defined for the library)
Playlists (if you have any playlists created with content from the library)
Recommended
The Recommended screen is intended to help you quickly access interesting content by displaying several suggestion areas.
Each Recommended screen is crafted for the type of content you are viewing. Be it movies by a particular director, most played music in the month of June, TV shows from a genre, or photos taken this year, these dynamic displays help you find content. A few examples of the types of content suggestions you might see:
Movies

Recently Released Movies
Top Movies by Ridley Scott
Top Movies in Action

Television

Recently Aired TV
Start Watching (Shows that you haven't begun watching yet)
Rediscover (Shows that you started, but haven't recently watched)

Music

Most played in May
More by Journey
Top Albums from 1995
Artists on Tour
Library
The contents of the selected library will be shown in the library view.
Related Pages: Libraries
Library Items
Depending on what you're viewing, you might see a movie poster; photo; music album or artist; or a TV show, season, or episode. You can click on the item to open it or hover over the item to see additional options.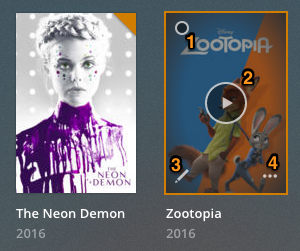 In most (but not all) cases, you will be able to:
Multi-select items (you can then perform actions on the set of items)
Immediately play the item
Edit the item
Open additional options
Using the … button, you'll see more actions available for the item. The available actions can vary based on the type of item as well as settings you've selected.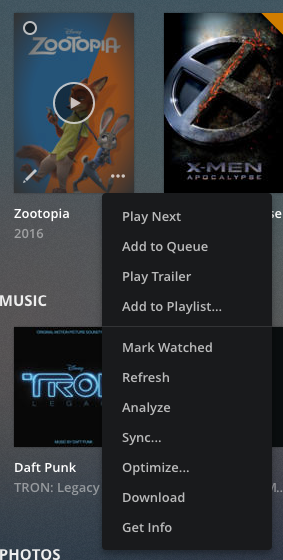 Top Actionbar
The top bar in the Plex Web app provides quick access to navigation, searching, and other important areas.
From left to right, the functions are:
Collapse/Expand
Search
Activity
Settings
Plex Players
Account
Collapse
The collapse/expand option will either minimize or maximize the navigation sidebar.
Search
The Search box searches media on for Plex Media Servers to which you have access. As you type in your search term, results from the current server will automatically populate. You can either choose Show more results… from the list or hit enter to get full search results.
On the full results page, you can choose to search either only "This Server" or search "All Servers".
Related Pages: Search
Activity
See activity from your servers such as:
Alerts: Scanning and Matching progress as well as other notifications
Sync: Current sync jobs that have been created for content on the selected Server
Conversion: Any conversions for sync or Media Optimizer that are currently in progress
Now Playing: Currently-playing items
Related Page: Server Status and Dashboard
Settings
Access settings for both the Plex Web App itself as well as settings to manage your Plex Media Server.
Related Page: Plex Web App Settings
Related Page: Server Settings
Plex Players
The Plex Players button allows you to select other available Plex Apps in your network. When selected you can control currently playing content. In addition, if you have another Plex App selected, when you select content to play in Plex Web App, it will instead play in the selected Plex App.
Account
You can sign Plex Web App in or out of your Plex Account. You can also access Users, Watch Later, Recommended, and other options.
Related Page: Plex Account
Announcements
Announcements from Plex will appear here, allowing you to keep informed about Plex. If there are new announcements, a badge will appear on the Account icon. You can access the Announcements under the dropdown there.
Alerts
Occasionally, you may see an alert pop up. Most commonly, this would occur if a new version of Plex Media Server is available for you to download and install.
Last modified on: July 31, 2019