Why Do I Get An Error?
As of the Plex Media Server 0.9.12.0 releases we have started to sign our packages so users know that they originate from Plex, Inc. By default the Synology NAS devices only trust packages from Synology themselves, so this article is meant to help guide users in setting their device to the correct Trust Level.
The default behavior when installing Plex Media Server on Synology without having set up the Trust Level or added the Plex provided key is this error message: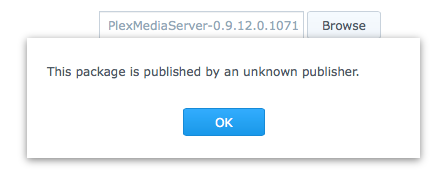 Configure the Package Center
When logged into the device and the Package Center is open, navigate to the Settings.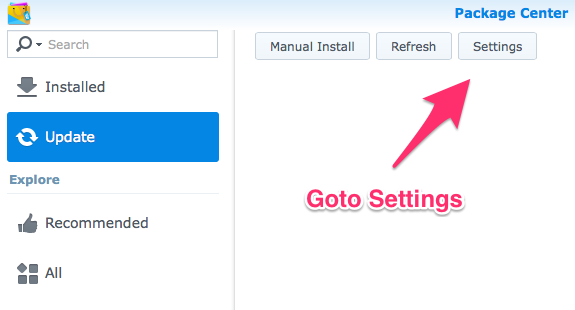 Adjust the Trust Level
In the settings window the default Trust Level setting by Synology is set to only trust packages from Synology Inc. You will need to change this setting in order to allow for other trusted package maintainers to add their keys.
Change the Trust Level setting from Synology Inc: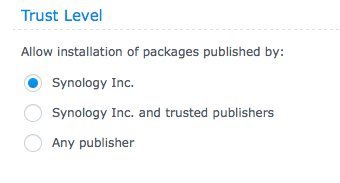 To Trust Level Synology Inc and trusted publishers: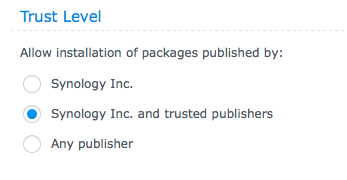 Add Plex's Public Key
Once the Trust Level has been changed we can move to add the package signing public key from Plex Inc.
Download the key from here: https://downloads.plex.tv/plex-keys/PlexSign.key
Tip!: The key has the 19930ce0357f723e590210e3101321a3 md5sum, if you wish to verify it.
With the key downloaded navigate to the certificate settings. This is where we add and remove keys on the Synology device.

Click Import and add the PlexSign.key that you just downloaded by using the browse option in the import window.
Once added, you will see that a second key listed. There should now be one named Plex Inc.

Click OK on the window and you should be all set to go back and install Plex Media Server, now signed and trusted by a new shiny 4096-bit key.
Install Plex Media Server
Instead of the unknown publisher error you should now see the install & run screen that normally appears when an app is to be installed on the device: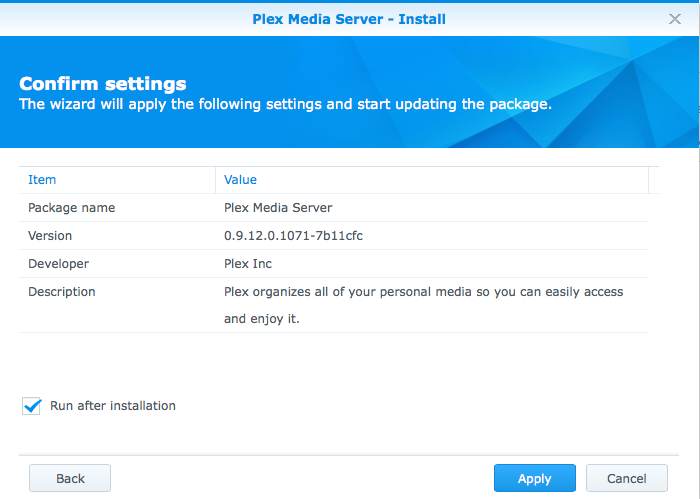 Simply click Apply and things should run smoothly from here on.
Last modified on: February 28, 2019