Live TV on Plex brings an exciting collection of free live TV channels you can watch—anywhere in the world, at any time. And best of all, it doesn't require any tuner hardware or antenna! Great ad-supported content across a large variety of genres is only a click or tap away. Personalize the channel guide so you see only what you're interested in and enjoy channel surfing bliss!
Related Page: Frequently Asked Questions - Free Live TV Streaming on Plex
Supported Apps
The following Plex player apps can currently access the free, ad-supported Live TV on Plex content:
Amazon Fire TV
Android mobile
Android TV
Apple TV
Chromecast
iOS
macOS (desktop)
PlayStation
Plex HTPC
Plex Web App
Roku
Windows (desktop)
Xbox
Navigation
By default, the Live TV (on Plex) source will appear in your app sidebar/navbar. Simply select that source to access the free, streaming content from Plex.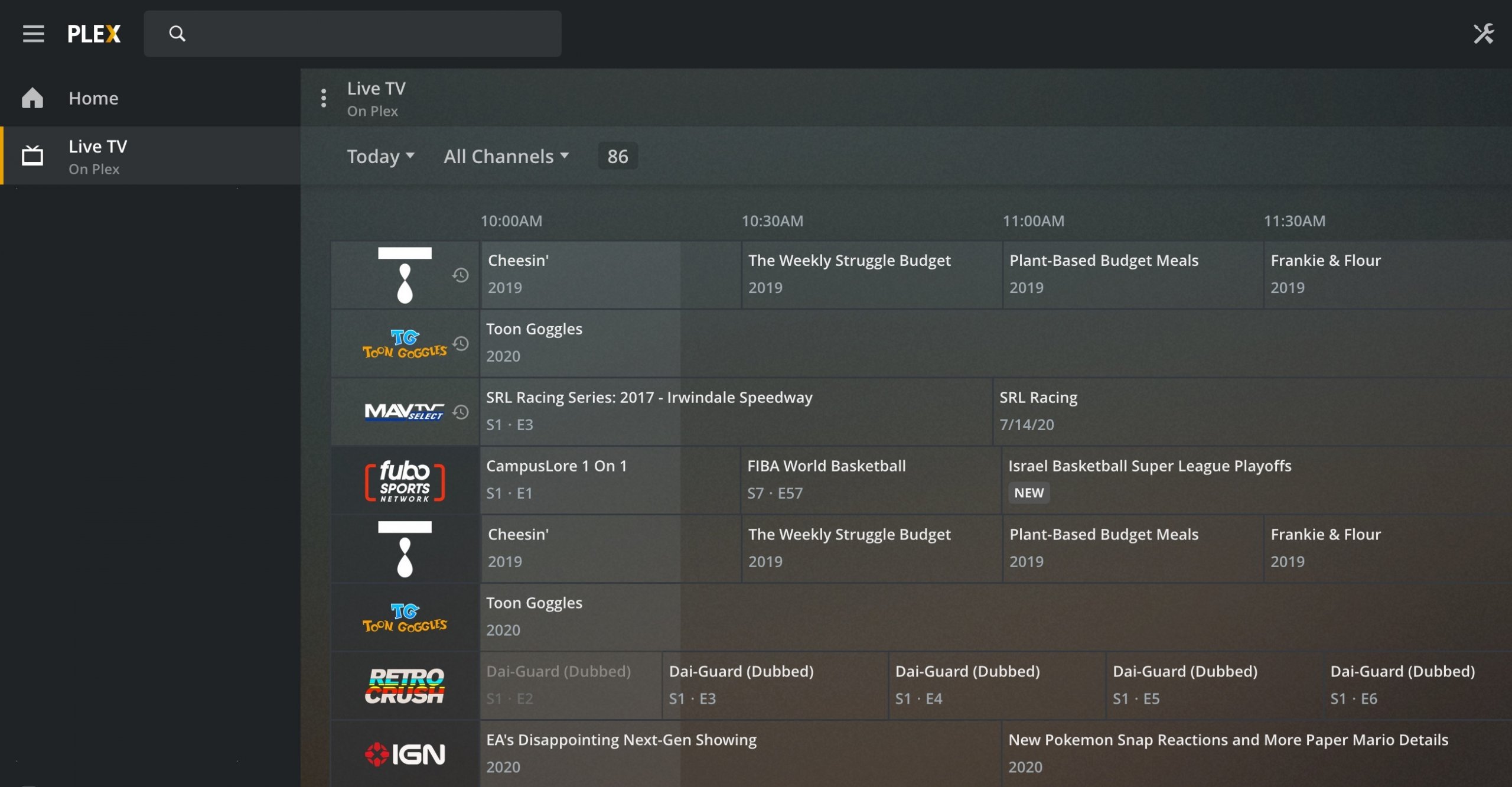 Personalizing Your Channel Lineup
You can personalize your live TV viewing experience by favoriting channels in which you're interested. You can favorite channels from any source (in supported apps), and those favorites are all displayed together, for easy access.
Your list of favorite channels can be reordered and managed, under the … menu at the top of the guide screen.
Similarly, if you have more than one source of live TV (e.g. you have your own DVR set up on your Plex Media Server as well as having Plex's free live TV channels), you can manage those sources from the same menu.
Enable/Disable Access
You can control whether the Live TV (on Plex) source is available for your account at all. Parents or administrators of a Plex Home can also control whether it's available for managed users they've created.
Open the web app when signed in to your Plex account
Under the user menu on the top right, choose Account
Select Online Media Sources under the account settings
Edit the desired online source

You can choose from the available options:
Enabled – The administrator account as well as all managed users and accounts with preset profiles can access the content
Disabled – Neither the administrator account nor any managed users or accounts with preset profiles can access the content
Disabled for Managed Users – The administrator can access the content, but no managed users or accounts with preset profiles can access it
Related Page: Managed Accounts
Related Page: Plex Home
Last modified on: March 22, 2023