Mobile Sync is a premium feature available to Plex Pass subscribers. With it, you can choose media, then a device to sync to, and the Plex Media Server will prepare the media, ready to be copied to your device.
Related Page: Mobile Sync / Downloads
We'll go through a quick example to show how you might use it. In this case, we're going to be using Plex Web App to initiate a sync to an iPad.
Before You Begin
Before you do anything else, make sure you've signed into your Plex Pass-enabled Plex account on your device. In this case, sign into the account in the Plex iOS App.
You'll also want to make sure you have your Plex Media Server signed in to your Plex Pass-enabled Plex account.
Related Page: Sign in to Your Plex Account
Setting up the Sync
So, let's say we've decided to sync some television content and have chosen to do an unwatched episode from a favorite show. In Plex Web App, browse into the TV Shows library, choose Archer, and then select Season 5.
In this case, we'll sync the first unwatched episode. By choosing to sync "unwatched" content, it means that once we finish watching the currently-synced episode, the next one will automatically be processed so it can sync to our device for the next viewing. Hit the Sync icon on the left: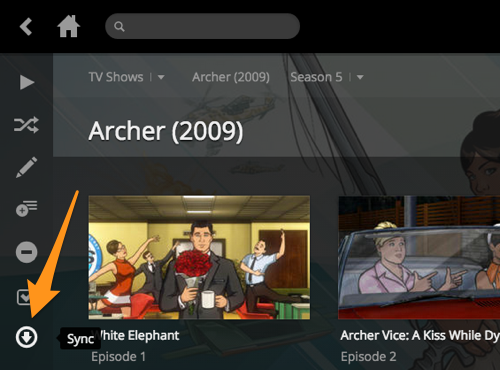 Then choose to where the content should be synced:
Now choose options for the Sync. Not all iPads have a lot of space, so you might choose to use a lower quality. In this case, we're only selecting a single unwatched episode. So, make the choices:
After submitting, it's possible to watch the progress as the Plex Media Server transcodes the item:
Related Page: Sync Content
Related Page: Plex Pass > Mobile Sync & Cloud Sync
Syncing on the Device
Once the Plex Media Server is done transcoding the selected item, it can be synced to the iPad. Launch the Plex app on the iPad, open the navigation menu, and hit the Sync icon below the user menu to open up the Sync screen.
In most cases, the App probably already started the sync process when the App was opened, but in case it didn't, hit the Sync button. The Sync should start and then it begins downloading the item to the iPad:
Related Page: Using Mobile Sync
Related Page: Plex Pass > Mobile Sync & Cloud Sync > Sync Prepared Items to the Device
Last modified on: February 27, 2019