If you've already been using other services on your Sonos, then using Plex should feel quite familiar. You'll be able to choose a music library on a Plex Media Server, browse and play content within the library, and even switch to a different library if you have access to more than one.
Choosing a Library
When you first start the Plex service, we'll try to pick the best music library for you (if you have access to more than one). On the off chance we pick the wrong one or if you simply decide you want to switch later, you can use the Other Libraries menu to choose a different music library.
Select the desired music library so you can access content within.
Browsing Within a Library
Once you've selected a music library, you can access content in multiple ways. You can shuffle and play the entire library, browse by artist or album, see your playlists, and even help get ideas for what you might want to listen to via Discover.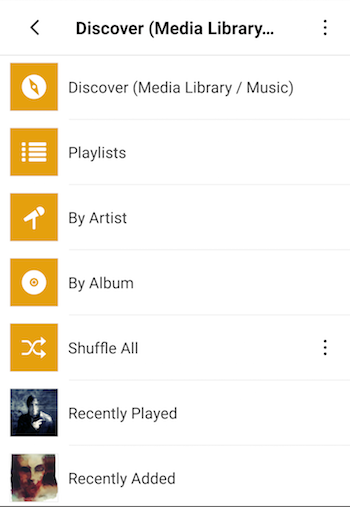 When browsing the library, you can start playback or perform other actions on artists, albums, individual tracks, or even playlists.
Related Page: Sonos Playback
Discover
The Discover view lets you see suggestions for content from the library. It's a good first stop if you don't already have something in mind to listen to. You might see suggestions for more content from an artist you played recently, top albums from a particular year, more content in a recent genre, or even artists that are currently on tour.
Discover is designed to help you quickly find content you might want to play.
Playlists
If you've created any playlists, you can access them and then shuffle (or play) the entire playlist or just choose a particular track from the playlist.
By Artist
Browse by artist and then dive into specific albums and tracks for any particular artist.
By Album
Browsing by album is similar except that there's no Artist level to it.
Shuffle All
You can choose to shuffle the entire contents of your library for playback. The playback will basically behave like a "radio" from other Sonos apps.
Interacting With an Item
While browsing your library, you'll see playlists, artists, albums, tracks, etc. You can interact with almost any of those. The method can depend on the platform you're using to control your Sonos (e.g. mobile app vs a desktop app), but it should be familiar to you from other Sonos services. For instance, in a mobile app, you can long-press on an item or click the "triple-dot" menu item for it.
When you're interacting with an item, you'll initially see standard Sonos actions allowing you to play immediately or manipulate the Queue on your Sonos device.
So, if you chose Play Now for an artist, then it would immediately play the content you have for that artist. Things work similarly for albums, playlists, etc.
You can also choose the More… or Info & Options option to access additional actions. These will let you do things such as browse to the album or artist, start a Plex Mix, or more.
Related Page:
Last modified on: February 27, 2019